Poker lovers who also love bitcoin have something to smile about after nOS Poker went live giving them a chance to play poker games with crypto.
The free poker games will be based on nOS operation which is a blockchain based system that is decentralized. To achieve their primary goal of making the games free, nOS Poker will be leveraging nOS proof of loyalty system.
Besides enabling players to play free poker games, there are prizes at the end of each tournament winners get rewards in the form of cryptocurrencies. Depending on your rank you will earn a certain number of coins.
While nOS Poker is the first free poker game, any crypto project which issues tokens can hold a poker game on nOS ecosystem. Apart from nOS liking poker games, their goal was to provide crypto enthusiasts a fun but yet free skilled based poker game which is also rewarding. Although some people have been waiting for such games, others have dismissed this as yet another scam where players will lose millions, although it is understood that like any other luck game.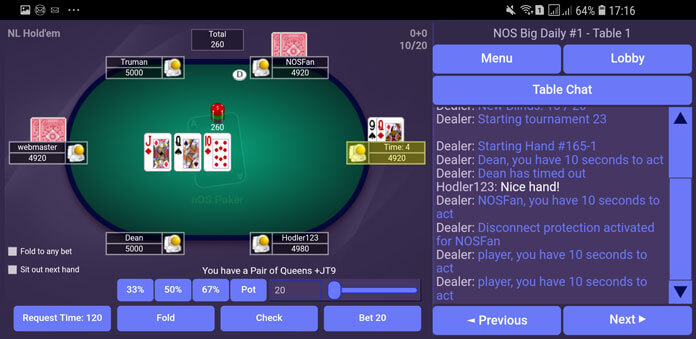 How to participate in the nOS Poker Games
Unlike in other poker games, at nOS Poker players don't need to pay a single cent to play. They are only required to possess a certain number of tokens on their Proof of loyalty wallet address nos.app. The number of tokens needed depends on the type of project. After that players need to proceed to registrations with their tokens acting as their ticket to participate in the poker tournament. Registration is open to all before the game starts. It kicks off with players having the same amount of chips.
To register, players must have an account set up at nos.app. With their tokens loaded in their wallets, the next step is to check tournaments available under the game calendar. To register for a specific tournament check your token balance and see which tournament your tokens grant you a ticket to play.
With all systems ready, a tournament is already scheduled to start at 18:00 GMT on Saturday, March 9th. To register players need 500 NS tokens and only 90 participants are required. In the end, winners will walk away with 2500 NOS. With the game set for Saturday, March 9th developers will be watching closely to note any hitches that might come up during the tournament.