The market witnesses a new bullish run of a memecoin. In the last 24 hours, the price of PEPE surged by 30%, propelling it to the top podium, where it holds the second position in the list of cryptocurrencies with the best performance of the day.
PEPE surged to reach its highest price in the last two months, reaching $0.000001044 dollars. It later lost some momentum, dropping to $0.0000008762. At the time of this publication, PEPE is on the rise again and is valued at around $0.0000009821.
Using $0.0000006288 as a reference point, which was PEPE's price just five days ago on October 19th, in comparison to its current value of $0.0000009821, represents an impressive increase of 56.12%.
Its current market capitalization stands at $385,814,083 dollars, showing a growth of 32.38%, ranking it at the 90th position according to CoinMarketCap.
Furthermore, its trading volume in the last 24 hours saw an unstoppable surge of 212.37%, pushing PEPE to the 19th position with a value of $411,194,751.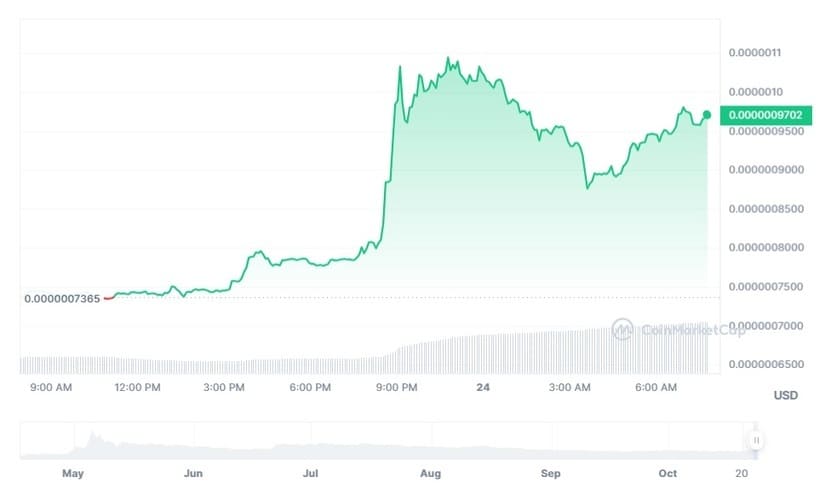 This increase in the price of PEPE can be attributed to two key factors. Firstly, the development team announced a burn of 6.9 trillion tokens, with an approximate value of $6.52 million. This move generated an increased demand for the cryptocurrency, likely driving up its price.
6.9T $PEPE Tokens worth ~$6,000,000 have been burned. https://t.co/aN5LRUFz8u

A new team of advisors have been brought on to guide Pepe forward. Uses for the remaining 3.79T tokens attributed to the original team CEX multi-sig wallet for strategic partnerships and marketing… pic.twitter.com/JN3ssvH0XL

— Pepe (@pepecoineth) October 24, 2023
The development team emphasizes that they are collaborating with advisors to guide the memecoin forward. They are currently exploring options for the remaining approximately 3.8 trillion tokens that belong to the original team's CEX wallet. These tokens will be utilized for forming strategic partnerships and exploring marketing opportunities.
The second reason behind the memecoin's growth is Bitcoin. BTC has been experiencing upward trends for the past few days, and in recent hours, a bullish rally pushed it to $35,000 dollars, creating a ripple effect that positively influenced other assets in the crypto market, including PEPE.
PEPE Is Not Alone
The bull market in memecoins didn't just boost PEPE. Other coins recorded gains without causing as much excitement. In the last 24 hours, DOGE climbed more than 4% and surpassed $0.0667 dollars.
Meanwhile, SHIB reached $0.00000750 dollars after a 3.2% increase in the same time frame.
There are other memecoins with lower market capitalization that shone as the biggest gainers in their class. These include Mog Coin (MOG) and HarryPotterObamaSonic10Inu (BITCOIN), which saw their prices increase by 69% and 40%, respectively.