Pepe coin (PEPE), a frog-themed cryptocurrency is witnessing a strong bullish momentum despite the widespread sluggishness in the digital assets market, climbing more than 6% in just 24 hours.
According to CoinMarketCap, Pepe coin (PEPE) is up 6.32% in the last 24 hours to hover around $0.000001424. Meanwhile, the digital token jumped more than a whopping 22% over the past seven days,  outperforming other major crypto assets as the overall crypto market remained sideways over the weekend, indicating that traders may have been avoiding making moves at the current levels.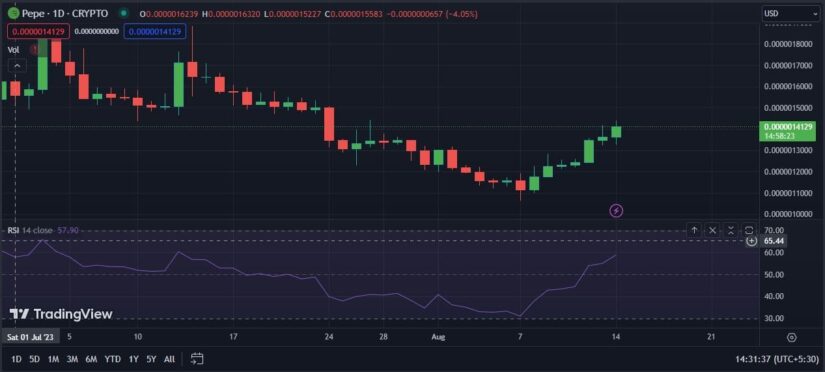 It seems the frog-themed cryptocurrency is primed for another bullish wave as TradingView upped the notch, giving a "Buy" signal in the daily time frame, which improves to a Strong Buy when considering the most important moving average indicators.
What Factors are Driving the Pepe coin (PEPE) Rally?
The recent PEPE rally has been notably driven by several factors such as substantial investments from whales and the meme coin's decoupling from Bitcoin (BTC), among others.
It looks like this whale bought another 486B $PEPE ($604K) from Wintermute Trading 8 hrs ago.

The whale has bought a total of 1.29T $PEPE ($1.61M) in the past 3 days.https://t.co/CrAZV85SvB pic.twitter.com/0EBiVBb16D

— Lookonchain (@lookonchain) August 11, 2023
As per data sourced from Lookonchain, it becomes evident that these whales have been showing heightened interest in PEPE, involving a substantial investment of 1 million USDC, that has enabled them to acquire a massive 807 billion PEPE tokens at an average price of $0.000001239 per token.
The move serves as a clear reflection of the escalating value attributed to PEPE within the market. One such whale brought $1.61 Million worth of PEPE over this past week. Data from Into The Block platform reveals that nearly 40% of the meme coin's token supply is currently held by whales.
🐶🙉 In the past 4 hours, there have been notable price ascensions from popular #memecoins. $DOGE, $SHIB, $APE, and $PEPE have all temporarily decoupled from $BTC and the #altcoin pack. Our quick insight reveals what this rare pattern historically signals. https://t.co/FkXGzGZiZY pic.twitter.com/ksXWYnZCGI

— Santiment (@santimentfeed) August 12, 2023
Another noteworthy factor behind the PEPE bull run is on-chain data firm Santiment's recent report suggesting that Pepe has decoupled from Bitcoin (BTC) over the past week, a trend that can increase its popularity amongst dissatisfied investors. In addition, Pepe supporters are also pushing Coinbase to list the meme coin on its platform.
Listen to me @coinbase — you have some tokens on your site that have no 24 hour volume. $PEPE — international meme that everyone relates with and who knows what they'll build in the future.

— David Gokhshtein (@davidgokhshtein) August 12, 2023
Experts Predict Bullish Momentum to Continue
Several experts have chimed into the Pepe coin (PEPE) rally, expressing optimism about the token's prospects shortly. On August 13, pseudonymous market analyst, CryptoKaleo took to X to reveal that Pepe is set to bounce back and reclaim the $1 Billion market cap following a crucial High Time Frame breakout.
The current PEPE market cap is only $525M.$DOGE at the peak of last cycle hit $80B, $SHIB hit $40B.

There's currently a HTF Breakout on the chart, I see this running back to $1B+ mcap easily. pic.twitter.com/Xn0BYeMQVV

— K A L E O (@CryptoKaleo) August 12, 2023
On the other hand, CryptoCurb is even more bullish on Pepe coin (PEPE) and believes that the meme coin can climb as high as $0.000002 before facing any major resistance. It looks like despite the recent market slump  many experts continue to hold a prevailing sentiment that the coin might witness a substantial surge.
$PEPE 🐸

🔸Might be time for #PEPE to run again

🔸Breaking out of downtrend channel for 2nd time

🔸Holding daily bearish OB support

🔸1st key magnet target/resistance at $0.000002@PepeCoinETH 🐸 pic.twitter.com/lDr8SfFJWx

— Curb◎ (@CryptoCurb) August 12, 2023