Optimism (OP), the main governance token for Ethereum layer-2 solution Optimism, has witnessed an explosive rally, pumping more than 13% in the last 24 hours after Coinbase (COIN) revealed it is building its layer 2 blockchain titled "Base", in collaboration with Optimism.
This comes at a time when most of the digital tokens took a dive after the U.S. central bank's Federal Open Market Committee (FOMC) released minutes signalling more hikes to tame inflation. Crypto heavyweights like Bitcoin (BTC) and Ethereum (ETH) are down 2.09% and 0.99%, respectively. Most of the top altcoins traded in red except a few. The global crypto market cap over the last 24 hours plummeted 1.35% to 1.09 trillion.
Why is Optimism Token Surging?
Despite the fall in the cryptocurrency market, Optimism (OP) zoomed past 15% over the past seven days.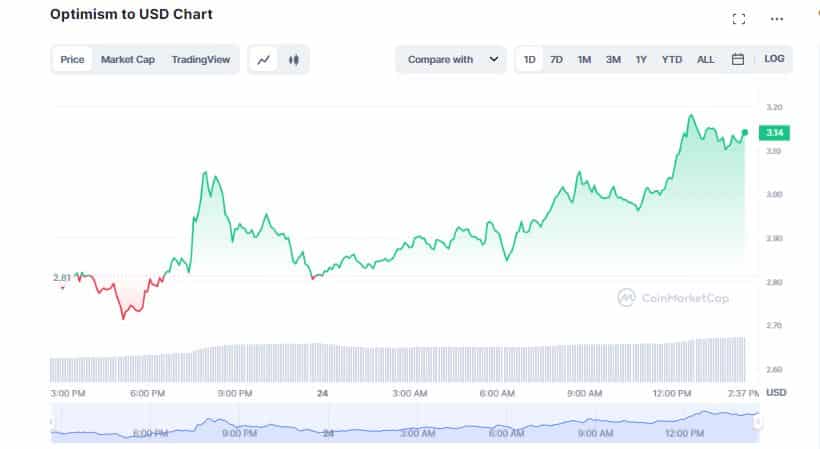 As per Coinbase, "Base" will be powered by Optimism, and the company would be partnering with the decentralized autonomous organization (DAO) for open-source development on the OP stack. As per the official press release, Base will be the new home for the Coinbase's on-chain products along with an open ecosystem for several new decentralized apps.
Furthermore, on February 23, Collab.Land, an automated management tool that integrates into Discord and Telegram for token-gated communities, announced to airdrop its token (COLLAB) on Optimism. Recently, the Optimism Foundation released a proposal to upgrade the Optimism mainnet to Bedrock, which is a new generation of decentralized Rollup architecture developed by Optimism Labs.
Optimism Sees Rapid Growth
Over the past year, the Ethereum-based scaling product has witnessed a massive growth in terms of adoption and activity. Optimism has enjoyed significant traction as it reduces the the transaction fee and transaction time on the Ethereum blockchain.
Stablecoin inflows on @optimismFND have shown a steady increase over the past month, with 27 out of the last 30 days recording positive inflows. The total inflow amount was $119.26 million, which represents 18.3% of the entire stablecoin market cap on Optimism pic.twitter.com/zX1n1PQMa2

— DefiLlama.com (@DefiLlama) January 31, 2023
The total value locked (TVL) on Optimism has also seen substantial uptick last month. The network's TVL jumped from $500 million on January 1 to $699 million on January 31, recording a whopping spike of nearly 40% in just a month. In addition, as per Etherscan, Optimism's daily transaction volume hit an all-time high of 800,000 transactions on January 12.