If you're interested in privacy, the Oasis Network is for you. It uses proof of stake and is fully decentralized. Oasis has a native token called ROSE. New applications for open finance and open data will be made possible by this network that gives people back control and ownership of their data.
This is a Layer 1 decentralized blockchain network built to be unique, scalable, privacy-first, and flexible. It has two main parts: the Consensus Layer and the ParaTime Layer.
The Consensus Layer is a proof-of-stake (POS) consensus run by a group of nodes that aren't all in the same place. Parallel runtimes (ParaTimes) can be found in the ParaTime Layer. Each one is a copy of a computer environment with a shared state.
What is Oasis Network?
There are many great people on the Oasis Team, and they come from all over the world. They come from Apple, Google, Amazon, Goldman Sachs, UC Berkeley, etc.
Dawn Song, a computer security expert at the University of California, Berkeley, is the founder of Oasis Labs, a member of the Oasis Ecosystem, and one of the first contributors to the Oasis technology.
Furthermore, the project is backed by some of the best VC firms and investors globally, like Andreessen Horowitz, Accel, Binance Labs, Polychain, Pantera, etc.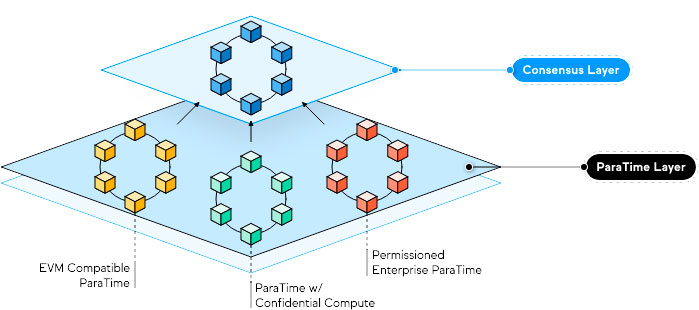 Technology
As you saw above, the Oasis Network is a Layer 1, POS, and decentralized network like this: Two main parts are the Consensus Layer and the ParaTime Layer, which are both important. They make it possible for the blockchain to be faster and more efficient for both developers and people who use them.
Scalability
Separating Consensus from ParaTimes means that multiple ParaTimes can process transactions simultaneously, so complex workloads on one ParaTime won't slow down faster, simpler transactions on another.
Furthermore, the network's sophisticated discrepancy detection makes Oasis more efficient than sharding and parachains, which require more replication for the same level of security.
Privacy
Confidential smart contracts can be made on the Oasis Network. It allows dApps to use sensitive data and opens up new ways to use the blockchain network.
There are places on this blockchain where you can do safe things. In a private ParaTime, all nodes must use a TEE type of computer technology to keep them safe (Trusted Execution Environment). TEEs are like a "black box" for smart contract execution in a secret ParaTime. This process makes sure that no one else can see the data, like the person who runs the node or the person who makes the app.
For example, people's social security numbers, bank statements, and health information can be used by apps on the Oasis Network. This opens up a wide range of new uses for the blockchain. Don't forget that this could be very dangerous on other Layer 1 networks.
An example of a private ParaTime in this network is the Oasis Eth/WASI ParaTime, which is open source. It uses Intel SGX, which makes it private. ZKP is another type of secure computing technology to be used in this network. It can also be used with HE. In the future, Oasis will be able to do things like secure multi-party computing, federated learning, and more, according to the official website.
Versatility
Unique to the Oasis Network is ParaTimes, which can be changed. Each ParaTime can be made by itself to meet the needs of a specific application. Large or small, open or closed, ParaTimes committees can be made to work faster or more securely, depending on the needs of a given use case.
To help businesses and developers use ParaTimes, it can be made Permissioned or Permissionless. It allows groups of people to have their own private networks. As a bonus, communities can have ParaTimes that is completely decentralized and open to the public, as well.
Each node in the Oasis Network can be required by law to have certain hardware, like Secure Enclaves, at a certain time. Each ParaTime can run different Runtime VMs, which are also called ParaTime Engines. Some of these can be an EVM backward compatible engine, a smart contract language written in Rust, or a tool that makes storing and sharing data easier.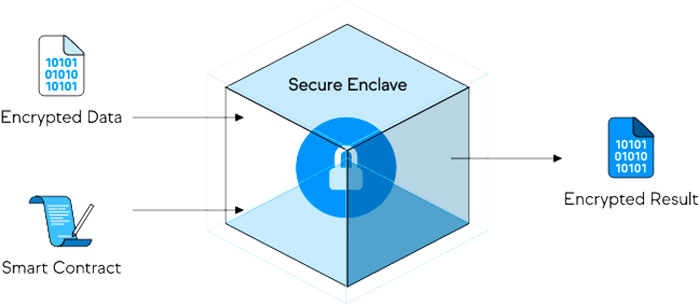 What is the Rose Token?
To use and pay, ROSE is the Oasis Network's native token. It has a limited supply. ROSE can be used to stake and delegate on the Oasis Consensus Layer and for smart contract operations that require fees in ParaTimes.
There is a cap on how many ROSE tokens there can be made. People who bought tokens at the start of the project had about 1.5 billion of them, and the total number of tokens is set at about 10 billion.
Approximately 2.3 billion tokens will be automatically distributed on the blockchain as staking rewards to people who help keep the network safe over time.
There are many ways to get ROSE tokens. You can get ROSE by taking part in Community challenges or becoming an Oasis Ambassador, both of which earn you points. Ambassadors are people who have unique skills and are passionate about helping the Oasis Network grow.
Running a node and taking part in staking or delegating on the network can also earn you ROSE.
How to Stake the Rose Token and Earn Rewards?
You can earn ROSE tokens as a reward for staking the token, and you can also help keep the Oasis Network safe.
Everybody who owns ROSE tokens can give them to a validator and start getting a share of that validator's rewards. The more ROSE tokens are delegated, the more money the validator gets from staking.
You can look at the list of validators for the Oasis Network using the Oasis Scan block explorer and the validator table. Holders can give their ROSE tokens to any validators who are still working.
There are many ways to get ROSE tokens initially for staking. You can get them as a reward or find them on exchanges like Binance, Kucoin, Coingecko, etc.
Many wallets and custodians on the Oasis Network allow people to stake and delegate on the network. Some of them are:
Oasis Wallet
Anchorage
Finoa
Bitpie
Bitpie is a very popular yet useful mobile wallet for holding and staking ROSE tokens. It works on both iOS and Android.
Here's how you can stake ROSE tokens using this app with your phone:
Seeing your ROSE dashboard and your ROSE wallet address is available on the app's main page. Click "Receive" to see the deposit address. Make a deposit in your wallet. To put your ROSE tokens into escrow, click "Escrow" after making a deposit.

The "Escrow" tab lets you see all of the validators. Choose one of them to stake your tokens to. If you look at

Oasis Scan

, you can also see all of the validators.
Then, enter how many ROSE you will stake and send it to the validator you chose.

Bitpie will ask for your PIN code or biometrics to make the deal. Enter your PIN-code and then go on.
You can read about other methods of staking in Oasis's official blog.
Conclusion
With these three main principles in mind, the Oasis Network was built. Privacy-First Design, a Resilient, Flexible Architecture, and Real-World Performance.
The Network is built to be able to handle a wide range of applications without having to go through hard forks or large network changes. This will ensure that it will still be useful in the long run.
Oasis Network, for the most important part, separates computation from consensus. This allows the network to do more complicated calculations while not congesting the network. Developers who make Layer 1 dApps could choose it as one of their first options. If more apps start to appear on the platform, it could get users' attention.