The adoption of cryptocurrencies is already an irreversible economic phenomenon. From this reality it is natural to expect the emergence of solutions that complement the benefits and management of these instruments as if they were a fiduciary money. Such is the case of banks as we know them conventionally. The company Galaxy Digital announced financial and corporate movements that will lead, among other things, to the creation of a bank for cryptocurrencies.
Through a press release, Galaxy Digital hopes to develop a "best commercial banking business of institutional quality, full service in the space of cryptocurrency and blockchain". It also intends for this bank to be a publicly traded company.
The press release outlined a series of complex transactions that will eventually culminate with the sale of Galaxy Digital shares on the Canadian TSX Venture Exchange.
This is expected to raise about $ 250 million through the issuance of placement receipts that are essentially shares of Galaxy Digital Holdings. Galaxy expects the transactions to be completed by the end of the first quarter, after which it will be able to start trading on the TSX Venture Exchange.
The decision to establish a cryptocurrency bank is an integral part of the long-term goal of billionaire Novogratz with his company, as well as a testimony of his general belief in cryptocurrencies and blockchain technology. He believes that the blockchain will change finances in the same way that the Internet changed communication.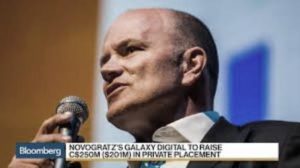 The bank intends to specialize in four main business segments. The first of these is commerce. Novogratz will deliver its portfolio, worth more than $ 400 million, to the company that will continue to manage and market it.
Second, the bank will also facilitate major investments in the entire cryptographic ecosystem. He will use his deep knowledge of the internal functioning of the cryptographic space to choose promising options in which to invest.
Third, Galaxy Digital will seek to manage assets for individuals and companies in exchange for fees and profit percentages.
Finally, the bank will offer advisory services for blockchain projects. These include market research, ideation of solution and writing of White paper for projects, architecture design, documentation of commercial and technical requirements, selection of suppliers and project management. Novogratz, who claims that the bank will become Goldman Sachs for cryptocurrencies, and will be the president and CEO of Galaxy Digital Holdings.