A classified new report to the United Nations (UN) revealed that North Korean cyber criminals embezzeled the maximum amount of crypto assets in 2022 than any other year. Independent sanctions monitors submitted the confidential report to a U.N. Security Council committee.
North Korean Hacker Activity Hit All Time High
According to a new report, North Korean hackers had intensified their infamous purloins the previous year looting a mammoth chunk of digital assets. It disclosed the malicious entities were responsible for theft ranging between $630 million and more than $1 billion in crypto assets last year after targeting several networks of foreign aerospace and defense companies.
The report submitted to a 15-member North Korea sanctions committee last week also noted a significant uptick regarding the sophistication of the hacks that eventually made tracing the stolen funds more challenging. The UN report noted,
"North Korea used increasingly sophisticated cyber techniques both to gain access to digital networks involved in cyber finance, and to steal information of potential value, including to its weapons programmes."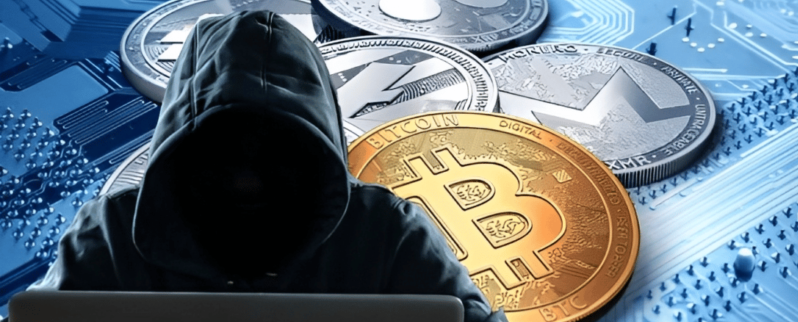 The report explained most of the criminal activities were executed by different groups controlled by the Kim Jong-un-led nation's primary intelligence bureau, the "Reconnaissance General Bureau". In addition, the groups included hacking teams tracked by the cybersecurity industry under the various names including Kimsuky, Lazarus Group and Andariel.
These groups deployed malware through various methods including phishing targeting employees in organizations across various countries. As per a cyber security firm, a North Korea based criminal group known as "HOlyGhOst" had extorted ransoms from small and medium sized companies in several countries by distributing ransomware in a "widespread, financially motivated campaign." The United Nations confidential report added,
"Initial contacts with individuals were made via LinkedIn, and once a level of trust with the targets was established, malicious payloads were delivered through continued communications over WhatsApp."
Will Cyber Hacks Increase in 2023?
This is not the first time cyber watchdogs have alleged North Korea of siphoning cryptocurrency. Recently, blockchain analysis firm Chainalysis published a report stating North Korea-backed hackers stole $1.7 billion of digital assets in 2022.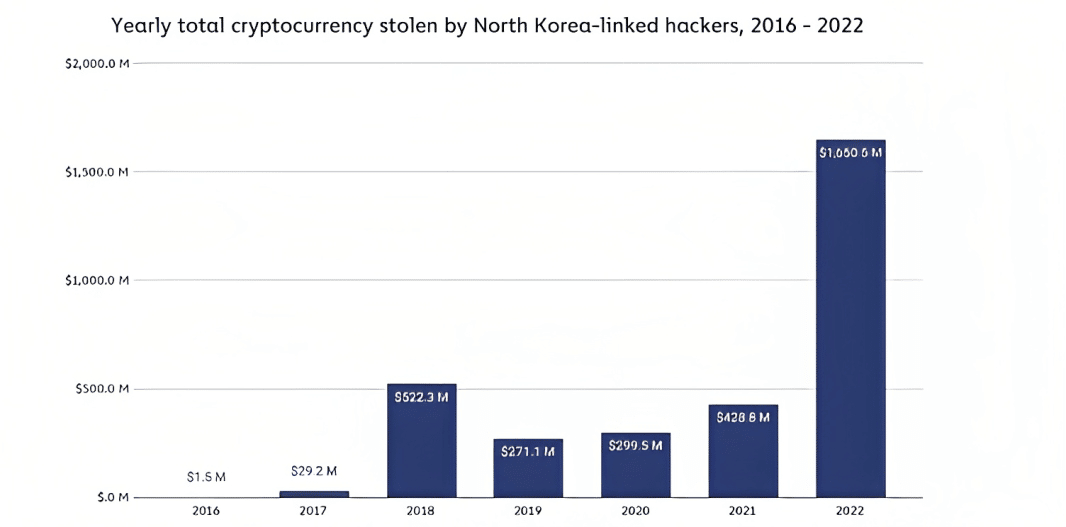 The robbery also made up nearly 44% of the $3.8 billion stolen in crypto hacks last year, which Chainalysis called "the biggest year ever for crypto hacking". In December, a South Korean spy agency said North Korean hackers have exploited a whopping $1.2 billion in cryptocurrency and other virtual assets in the past five years. 
Experts believe have said the severe UN sanctions coupled with the COVID-19 pandemic have forced North Korea to get entangled in crypto hacking and other cyber related crimes. The country is also in dire need of money to fund its nuclear program and missile tests.
In addition, the National Intelligence Service (NIS), South Korea's main spy agency claimed North Korea's capacity to steal digital assets is considered among the best in the world because of the country's focus on cybercrimes since U.N. economic sanctions were toughened in 2017. NIS has also reportedly warned the world that North Korean hackers are expected to conduct more cyber attacks in 2023.