Operations between DEX (decentralized exchanges), an exclusive privacy protocol, scaling solutions, transactions between different blockchains and, above all, the ease of usage for the consumer, are some of the characteristics of NIX – the first decentralized exchange manager based on privacy.
What is NIX?
NIX is a platform that combines Atomic Swaps and privacy which provides transfers anonymity and decentralization.
Headquartered in San Francisco (California), its goal is to ensure that people from anywhere in the world can achieve an economic, social and global independence.
https://www.youtube.com/watch?v=_mUOXYuVNxk
What does NIX provide?
Among the characteristics of the project we can highlight:
Anonymous and decentralized environment: NIX wants to return the original concept to cryptocurrencies.
Intra-blockchain transactions: Allows transactions between different blockchains.
Cross-chain transactions: Allows the exchange of different cryptocurrencies, that are in different blockchains without the need for a third party to intervene.
Transactions between DEX: Currencies exchanges are stored in different decentralized Exchanges.
Use of Blocknet protocol: (Protocol that will allow data transfers and values through the different blockchains
Privacy: NIX will adopt multiple privacy mechanisms
Ghost Protocol: Protocol that will allow anonymous and decentralized transactions.
Focused on the UX User Experience: The user experience of NIX is one of its pillars, which is why they are creating a simple and accessible environment for everyone.
How does NIX work?
The first use case of NIX will be the creation of a decentralized exchange manager, where you can exchange cryptocurrencies stored in the different exchanges. This will provide convenience for the user, in addition to providing a total decentralization and privacy.
"At NIX, every integrated DEX will act as a node in order to perform cross-chain private transactions thanks to NIX DEX Manager. The combination of multiple DEX's with our Ghost Protocol guarantees complete decentralization and privacy."
NIX – Ghost Protocol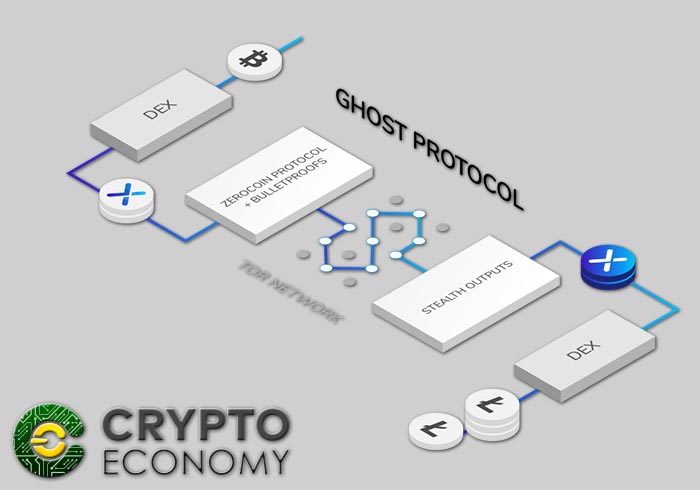 Through the Ghost Protocol, a system will be created that will encode the data of its users, making it impossible to locate the assets. This protocol will be constantly updated and evolving.
This system will protect the privacy of the receiver and the sender, both in the network and in the blockchain. The Bulletproof integration is being studied and developed but will not be available at the MainNet launch.
ROADMAP
According to the roadmap marked by the NIX team, these are the next steps for the platform.
1. Launch of the Mainnet – Implementation of the NIX mainnet together with the Ghost Protocol and the active Ghost Nodes.
2. NIX UI – Release of a user-friendly interface that meets the needs of the consumer.
3. iOS / Android mobile wallet – With basic transaction functions
4. Integration of Ghost Protocol in mobile wallets
5. DEX – Release of the NIX Platform Dex Manager v1.0 with the Blocknet layer.
6. Development and research of Sidechain
7. Smart Contract Privacy Tools