Due to the wide variety of cryptocurrencies in the crypto market, having a wallet for each crypto in possession can be somewhat cumbersome. Each wallet involves the storage of a password, updates, backups … This is why multi-wallets are the choice of many users. In this tutorial, we will talk and explain the installation process of Flare Wallet, a lightweight multi-wallet of cryptocurrencies that is also focused on privacy.
What is Flare Wallet?
Flare Wallet, is a cryptocurrency wallet created by the NIX team, which is designed to give back to its users control of their investments. It is currently in the Beta phase and can soon be used with all its functions.
On security and key management, the Flare Wallet team says:
"All keys are managed locally and fully secured and encrypted by the end user with a simple backup of 12 mnemonic phrases. There are no servers that manage your wallets for you, you control everything."
In addition to privacy and security, Flare Wallet has been designed with a simple and modern interface so that it can be used without problems by all types of users, both experts and the newest in the sector.
Flare Wallet Features
The wallet that is currently in its Beta version will offer after its launch:
Network privacy: Option to route through the Tor network.
Coin control support: Control of the entries for each coin transaction using UTXO sets.
Decentralized privacy exchanges: exchange of coins inside the wallet, 100% private and secure, thanks to the NIX protocol.
Hardware wallet support: Ledger / Trezor.
First steps with Flare Wallet
The wallet is currently available for Windows, Mac, Debian and Ubuntu, in this tutorial we will see the installation process for Windows.
Step 1: Download and install Flare Wallet from its official website.
Step 2: Once installed, the configuration process will begin. As usual in the creation of cryptocurrency wallets, one of the first actions is to create a password.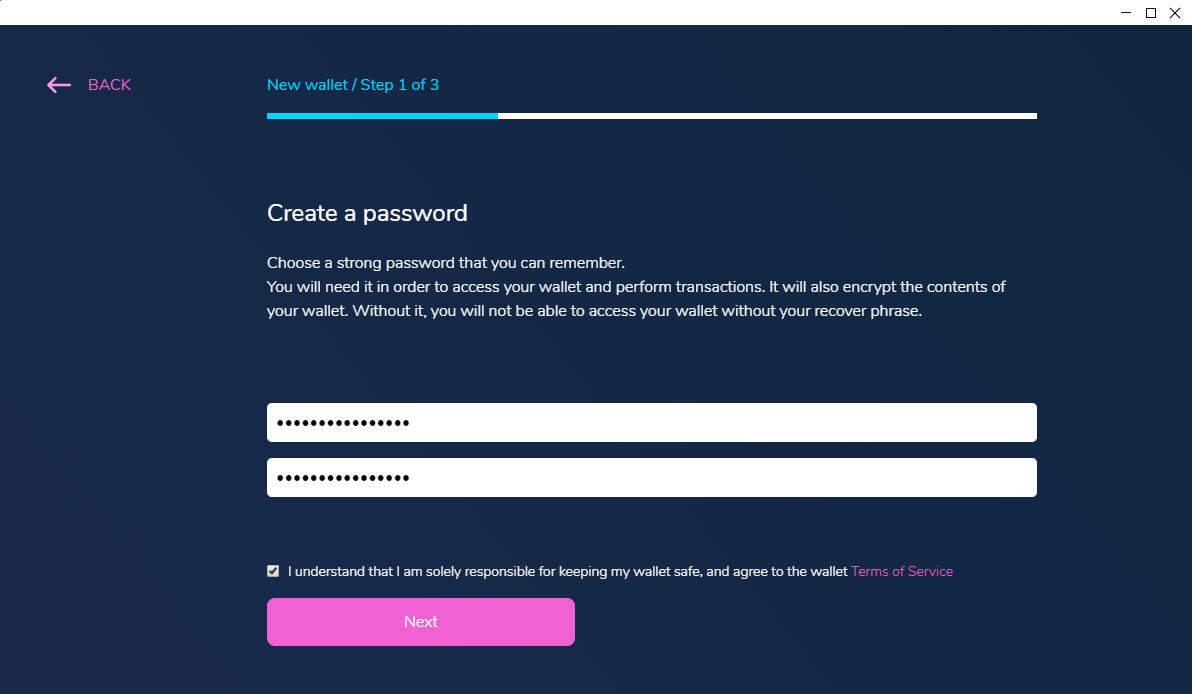 Important: Remember to create secure hard to remember passwords by using numbers, upper and lower case. Also create a backup and verify the operation of the password before making any type of transaction to the wallet.
Step 3: The wallet will show a list with 12 words, which should be written and stored in a safe place, as they will be necessary in case you have to restore the wallet. Once the backup is done press "I have made a copy ".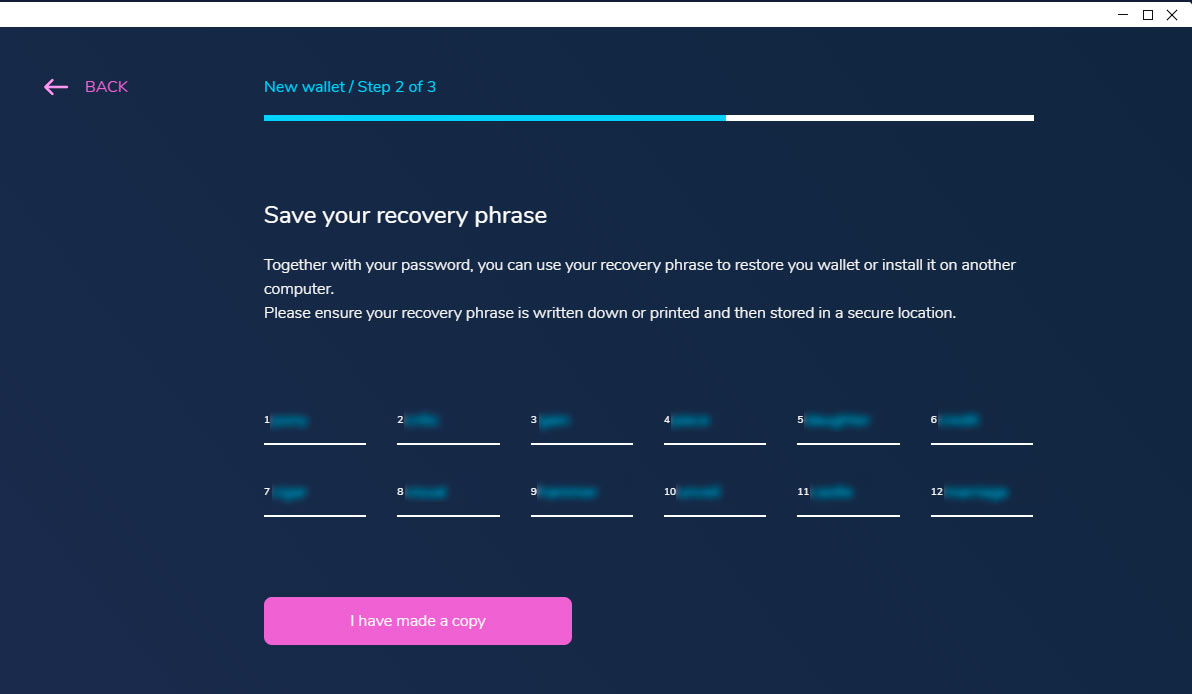 Important: It is advisable to save both recovery words and passwords on an external device, such as a flash drive, an external hard drive or even written on paper. Since in this way if there is a security breach in the computer that has the wallet installed, the passwords will be safe.
Step 4: In this step, Flare wallet will check to verify that the Recovery Phrase words have been saved correctly. To do this we must write them 1 to 1 in the same order.
Once these simple steps have been completed, the wallet will be ready for use.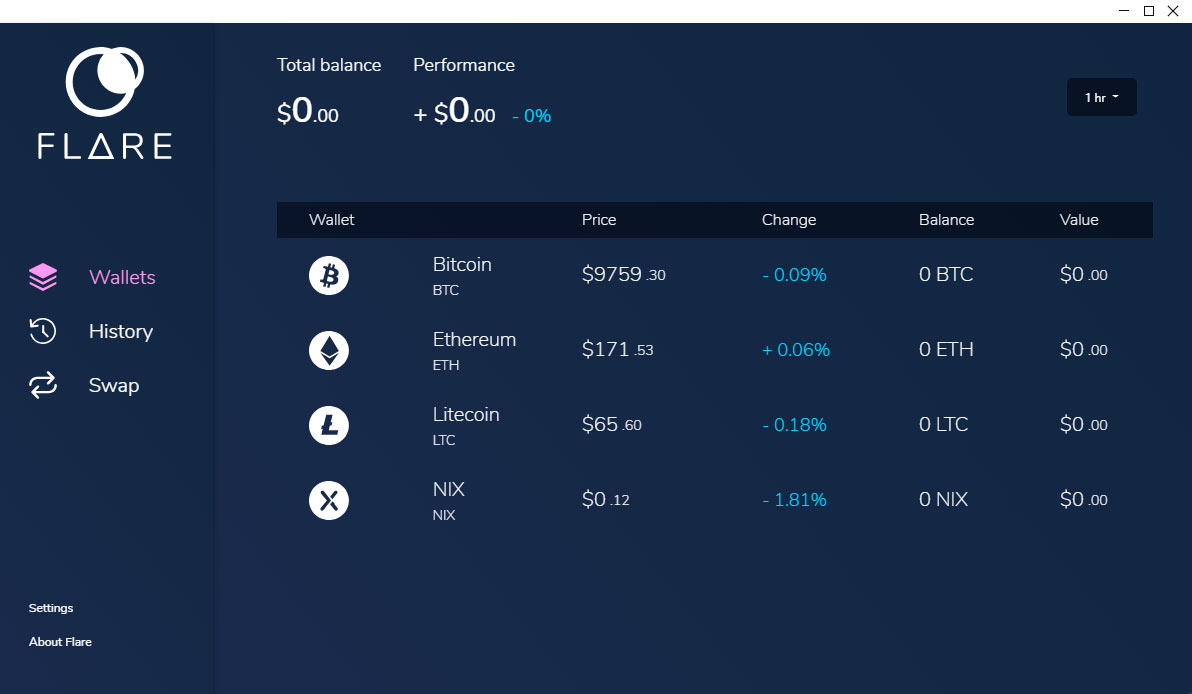 Wallet interface
The wallet has a simple and intuitive interface, with a menu on the left that shows 3 buttons with the different options of the wallet.
Wallets: Where the user can see the status of their wallets, the current price of the assets and their price change in the last hours.
History: History of transactions made.
Swap: This option will be enabled soon.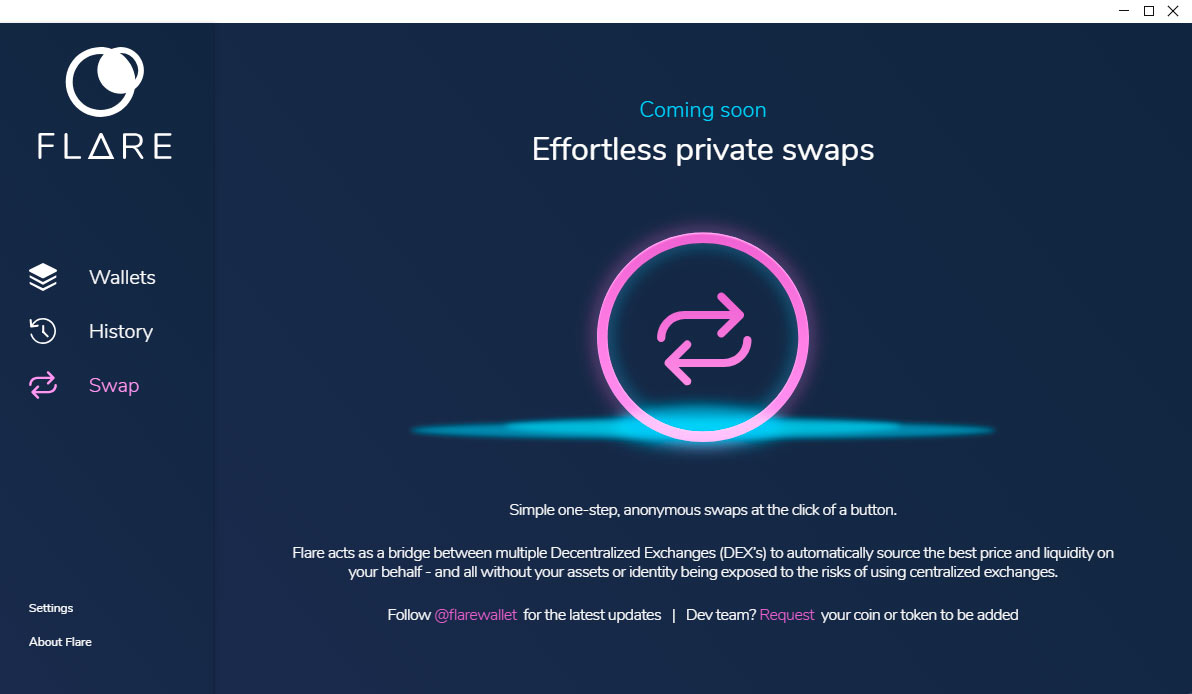 "Soon
effortless private swaps:
Simple anonymous one-step exchanges with the click of a button.
Flare acts as a bridge between multiple decentralized exchanges (DEX) to automatically obtain the best price and liquidity in your name, and all without your assets or identity being exposed to the risks of using centralized exchanges."
In the lower left of the wallet the access to settings will allow us to perform different actions such as making a backup of the Phrase or changing the password.
In About Flare you can see a link to the terms of service of the wallet.
About NIX
With Headquarters in San Francisco (California) and with its Mainnet launched on June 27, 2018, NIX is a multi-layer interoperability platform that allows decentralized applications (dApps) focused on anonymity and smart contracts.