Sportswear giant, Nike Inc., has minted $185.3 million in revenue from non-fungible token (NFT) sales becoming the world's biggest-earning brand in the NFT market.
According to the data published on crypto analysis platform, Dune, the number of secondary market transactions of Nike NFTs reached 67,500 while the secondary transaction volume topped $1.29 billion, ranking first among all the 12 listed NFT-issued brands. The total NFT revenue is including Nike's primary sales revenue and total royalties which are $93 million and $92 million respectively.

Total Revenue is Independent of the Volume of NFT Sales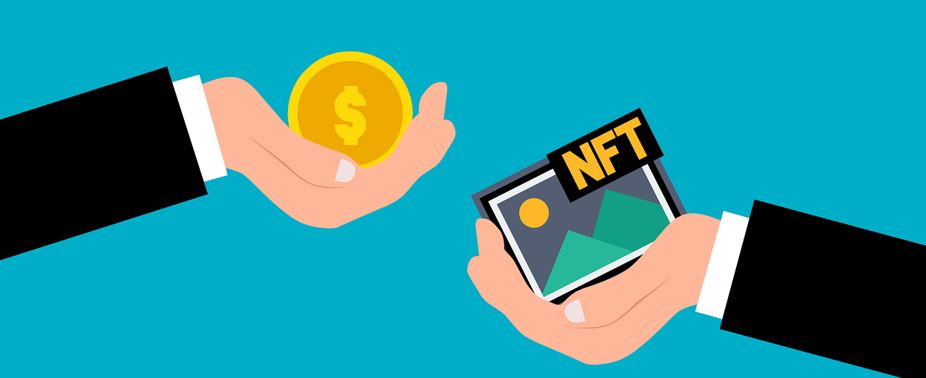 The report stated that the other companies to occupy the top five of this NFT revenue list are Dolce & Gabbana (D&G), Tiffany, Gucci, and Adidas with revenues of $25 million, $12 million, $11 million and $10 million, respectively. Interestingly, the total revenue seemed to be independent of the volume of NFT sales. Adidas clinched the second most amount of transactions at over 51,000. Meanwhile, D&G generated over 9,000 transactions, followed by Gucci with almost 4,000, while Tiffany managed to earn that amount from a mere 74 transactions.
In 2021, Nike impressed the entire NFT world with the acquisition of digital fashion brand and collectibles start-up, RTFKT Studios, stepping into the world of metaverse, NFTs and virtual fashion industry. John Donahoe, President and CEO of NIKE, Inc. had said that the acquisition is a major step that will mold Nike's digital transformation and enable the company to athletes, sportspersons and celebrities in a better way.
RTFKT is now a part of the NIKE, Inc. family. 🌐👁‍🗨 pic.twitter.com/5egNk9d8wA

— RTFKT (@RTFKT) December 13, 2021
NFT Sales Takes a Tumble
In December 2021, just after two weeks, RTFKT launched the CloneX collection, Nike acquired the firm. CloneX has attracted the highest royalty fees for Nike, with over $39 million. RTFKT is responsible for creating most of Nike's NFT collections, including MNLTH, which generated $24.22 million. It also made the Mint Vial which has garnered $15.06 million.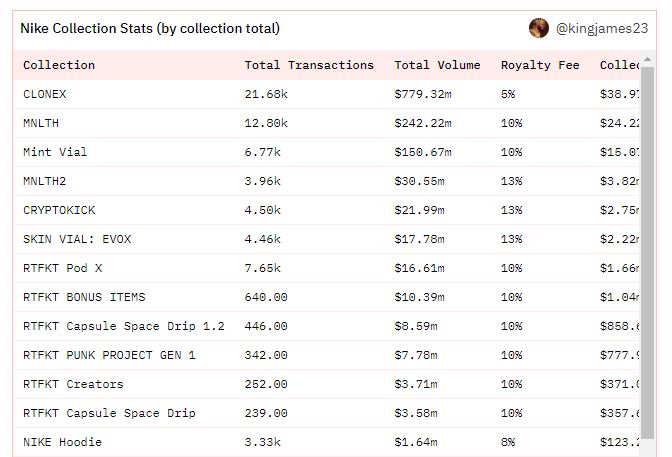 Nike released its first collection of virtual sneakers, called Cryptokicks in April 2022, which comprised of 20,000 NFTs, including one designed by artist, Takashi Murakami, which was purchased for a whopping $134,000. CryptoKicks are customizable, with customers purchasing a "skin vial" to change the color of the shoes' signature Swoosh, heel, straps and tongue.
According to data from NonFungible.com, NFT sales have dipped over the course of the past year. From peak sales of about 210,000 last August, the market crashed with the decline in the cryptocurrency market. The total sales volume for the week stands at 19,000 transactions and a meagre $6 million in sales.