A fresh report from Reuters analyzes the NFT market in the past year and possible future outcomes. It focuses on the $25 billion records of NFT sales in 2021. The number looks very interesting for kind of a young market, but the report says there are some signs of slowing down in the growth of the NFT market. The data of this report is gathered from DappRadar. It shows signs of slowing down in the last months of the year.
The NFT industry showed lots of opportunities in the past year. Many of the art pieces were sold at considerable prices. Lots of investors decided to enter this market in the hope of earning more. Digital artists, collectors, and many crypto enthusiasts had lots of opportunities in the industry. The numbers show a promising future for the NFT industry, too. The record of $25 billion traded NFTs in one year shows this market somehow exploded in 2021. But some metrics show the growth is slowing down.
The latest report by Reuters talks about many incidents in the past year, including big sales of NFTs. One of the most important ones was the sale of an NFT artwork in Christie's sale for the price of $69.3 million in March. Another important news was big brands joining the momentum and selling NFTs. Gucci and Coca Cola were the most mentioned ones in this subject.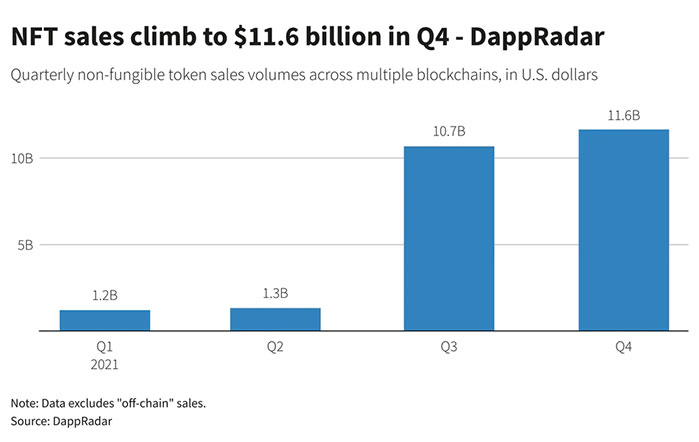 Compared to the year 2020, the NFT industry grew considerably. The NFT sales volume in 2021 was $24.9 billion, while this market showed only $94.9 million in sales in 2020. This data is provided by DappRadar. Other data providers like CryptoSlam and NonFungible.com report different numbers. The former reports the sale of NFTs in 2021 at $18.3 billion, and the latter says $15.7 billion worth of NFTs were sold in 2021.
Another interesting piece of data in this report is about the number of traders who trade most of the NFTs in the market. Reuters says 10% of traders account for 85% of sales in this market. 
Various data sources show the price of NFTs are very different and volat8le. According to the report:
"While the most expensive known NFT sale was $69.3 million, a common price range was $100 to $1,000. Prices of the most sought-after NFTs were highly volatile. The average sale price of a CryptoPunk image rose from around $100,000 in July to nearly $500,000 in November. By December, it had fallen to around $350,000."
As mentioned above, the growth of the NFT industry somehow slowed down in the last months of 2021. There can be many reasons behind this downtrend, but many believe 2022 has many more opportunities for this market.