Looks Rare NFT marketplace is the newest platform in this sector trying to compete with big names like OpenSea and can be successful. There are many reasons this platform can cause problems for the market share of major marketplaces like OpenSea. Its launch made big news in the market, and many analysts are comparing it to other players of the NFT industry.
The NFT industry is growing very fast, and there are many opportunities in this sector for various players. Artists and collectors are earning considerable rewards, and investors are always looking for more opportunities to be active in the market. 
Marketplaces and similar platforms play a vital role in this industry. They provide the fundamental tools to mint, promote, sell, and trade NFTs with many more features. There are currently many players in this sector, and OpenSea looks like the most famous one. But there are more players joining the competition every day. Looks Rare is the latest one.
The launch of the Looks Rare NFT marketplace came with big news yesterday. The platform ran an airdrop to attract as many users as possible. It gave away tokens to users who have traded at least 3 ETH in volume on OpenSea. It's a clever move from a platform that tries to gain more market share in re industry. Giving away tokens to users who are on the competitor platform means they're serious about attracting more users.
The latest analysis by Delphi Digital shows Looks Rare has been successful on the first day of operation. The trading volume was comparable to OpenSea in some hours. It showed two peaks of about $4.5M trading volume in the hourly chart. The data shows considerable possibilities and opportunities for this platform.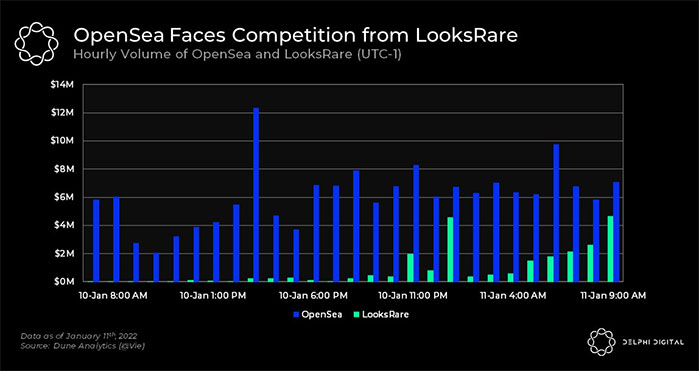 As mentioned above, the NFT industry is growing very fast, and the competition is fierce in attracting users and artists. Looks Rare is trying to increase its market share by offering considerable features to users. It rewards the traders for trading NFTs, for example.
Another good feature of Looks Rare that can help it attract more users is the staking option. Something we don't see in most NFT marketplaces. Users can stake the LOOKS token in this platform and earn up to 980.19% APR. another option is that users can list their NFTs both on Looks Rare and other trading platforms. But the reward this platform pays may make it more interesting for minting.