What is Cold Storage?
Cold storage is an offline wallet provided for storing cryptocurrencies. Cold Wallets are stored on a platform that is not connected to the internet making it very secure from any unauthorized access, cyber attacks or any other insecurity connected to the internet.
Cold wallets are like saving accounts since users can store large amounts of digital assets and not worry about losing them. There are different types of cold wallet but the most common one is the hardware wallet. It is kept offline but has the ability to be plugged into a computer if need be. They are also very safe and cannot be hacked.
The NFC Wallet Card is offering cold storage solutions to cryptocurrencies such as Cardano (ADA) in order to fight the major issues that are faced by Hot Wallet users as well as micro-computer hardware wallets for Cryptos.
Apart from high risk of insecurity, the other disadvantages include the need for a power source, the risk of failure of single components, potential hardware and software vulnerabilities and lack of transparent operations.
The NFC Wallet Card is focused on utilizing the already available features instead of creating another complex hardware. This will pave way for more stable and transparent operations.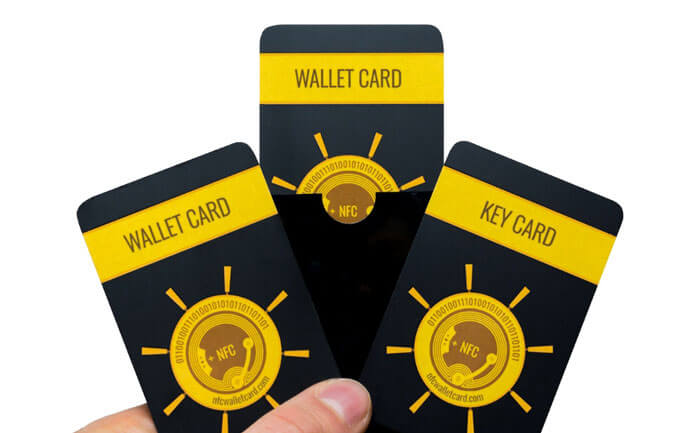 Features of the NFC Wallet Card
The NFC hardware integrated to the wallet card always remains offline, thus providing a very high security level. These security levels ensure your card is protected even if other users have access to them.
Cards are open by default and can therefore be used out-of-the-box with any NFC software and mobile application according to user's preference.
The platform offers free applications to users hence giving them access to additional security features. Users can also choose multiple security levels according to their needs.
The card has secure data encryption and is a perfect way to create an encrypted offline backup for users' private keys.
The NFC Wallet Card can be bought here.
The NFC Wallet Card supports all cryptocurrencies that are based on a private key or a secret code. It offers a solution to secure storage of any kind of secret text data which makes it very useful when it comes to protecting users' private keys.