Nexo is one of the many coins that have experienced a considerable drop in the chart, with many factors causing the crisis for the investors.
A cryptocurrency lending platform named Nexo offers NEXO as a security token for its cryptocurrency loans. With its price falling to $0.68 a unit, the token is now at its lowest level since January 2021, down nearly 25%. In addition to a massive intraday decline, NEXO's losses this week have come as part of a broader downward trend, which has led to a loss of more than 40% for this coin.
The Market is Pushing It
There is a broad challenge in the DeFi sector that results in losses for platforms like Nexo. Investors are becoming worried, and the volume of investment is experiencing drastic changes. 
Due to the wipeout of trillions from the crypto market in 2022, traders are concerned that many decentralized finances (DeFi) and centralized finance (CeFi) firms will be forced to default on their debts.
There is a domino effect in the market resulting in losses for more coins, including Nexo. Several concerns have been raised following the collapse of Terra (LUNA) only a few weeks ago.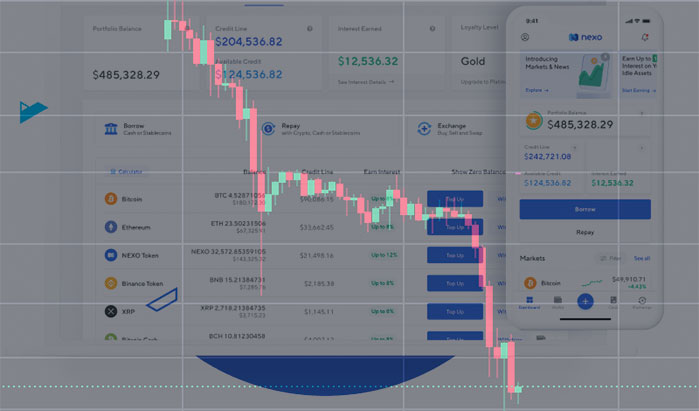 Furthermore, Celsius Network, which sells clients up to 18% yields, paused withdrawals after supposedly experiencing "extreme market conditions." Around half of the assets of its clients have exited the platform since October 2021.
A crypto hedge fund, 3AC, has reportedly liquidated at least $400 million of its portfolio. Although Nexo has been partnering with 3AC since December 2021 on the development of a non-fungible token (NFT) lending product, the company reports it has no exposure to 3AC currently. According to the firm, no results were obtained with the partnership with 3AC.
Оver 2 years ago, we declined 3AC's request for unsecured credit. We learned that they acquired it elsewhere.

It is now obvious that Nexo's approach was correct. This is why our assets exceed our liabilities:https://t.co/nKmWs2ckte

— Nexo (@Nexo) June 15, 2022
NEXO maintains a bearish price trend, mainly due to the crypto market's miserable state in a high-interest rate environment, which is the main cause of the price decline. The NEXO/USD pair now aims to hold on to the support between the $0.58-$0.69 range over the period of December 2020 to January 2021 due to its historical significance.
It would not be surprising if NEXO bulls wanted to see $0.883 as their interim target after a rebound from the $0.58-$0.69 range. It is the same level that was instrumental during the early-May price crash.
However, a decline below the $0.58-$0.69 range could trigger NEXO to watch the $0.43 support level near the end of November 2020. This will be a substantial drop from June 15's price of $0.58.