The long-awaited Mt. Gox rehabilitation plan nears its deadline set for December 15, causing immense fear for Bitcoin investors. With 150,000 BTC at stake, market participants are wondering whether the plan will be postponed again or finally confirmed.
Two months ago the cryptocurrency market was at an entirely different stage, but it faced the same fear as we do today. At the time, Mt. Gox had until October 15 to issue a Bitcoin rehabilitation plan for its affected clients. Ultimately, the Tokyo District Court decided to delay the plan yet again this year up until December 15.
Only a week away, traders are predicting the outcome of the next court order. If Mt. Gox proposes a plan on time, the Japanese court will set in motion a reimbursement plan that may even occur by the end of the year.
In that case, these investors would have access to 150,000 BTC in total which they could instantly sell if they wish. At the time of writing, the sum equals to $2.82 billion and as such would provide immense selling pressure on the market.
But if Mt.Gox once again fails to deliver a plan, it is possible that the Tokyo District Court will delay the deadline for another three months if not more. While that may be great for bullish traders in the short-term, Mt.Gox still has to reimburse its previous clients at some point. Be it a year from now or two, the cryptocurrency market will have to face a turbulent event either way.
Mt. Gox victims are waiting since 2014 for a plan
As a reminder, Mt. Gox used to be the leading cryptocurrency exchange between the period of 2011-2014. In fact, it was used more than any other trading platform at the time despite its history of hacks. In the end, the exchange collapsed as a result of these hacks as Mt. Gox did not cover the full sum of funds that investors have deposited.
Offline since February 2014, the investors who lost their funds still to this day have not been reimbursed. Since then, Bitcoin's value drastically increased and most experts suspect that the clients would sell their digital assets as soon as they receive it.
Bitcoin remains indecisive as price ranges
Bitcoin has not reacted in any way to the Mt. Gox news, which is normal considering that the deadline has been public for months. As a matter of fact, the leading cryptocurrency is more indecisive than ever as it hovers closely under its all-time high.
Since the start of the month, both bulls and bears are indecisive as prices continue to range for more than a week. Moving between $18,300 and $18500 the ongoing price action is stranger than ever before, especially considering that we are at such high prices.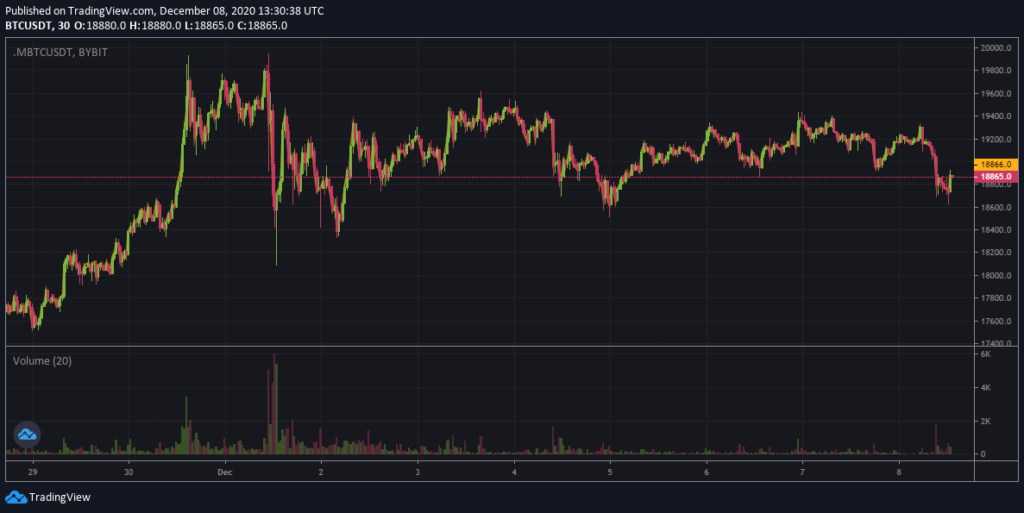 A majority of investors believe in their own personal bias that Bitcoin is headed in a certain direction and that no questions should be asked. But the case may be surprisingly different.
With such an important price range being formed right now, investors could be either accumulating or distributing assets with no sure way of telling what is more likely to happen.
If Bitcoin pumps, traders will surely see new all-time highs beyond $20,000. Bulls on Crypto Twitter discuss price targets such as $22,000 and $24,000. Some even mention $36,000 as a reasonable target that can be reached in the following months.
On the other hand, if prices fall we may see a correction of up to 30% if not more. Bearish investors suspect that Bitcoin will reach prices between $13,300 and $13,900 by the end of the month. Such a move brings major uncertainty but would also offer a decent and healthy correction. If Mt. Gox confirms a rehabilitation plan a week from now, it may indeed serve as the catalyst that 'nukes' the market.
---
If you found this article interesting, here you can find more Bitcoin news