The recent surge in the value of SingularityNET [AGIX] can be attributed to a combination of factors, including increased interest and investment in the artificial intelligence market and the success and growth of the SingularityNET platform itself.
The coin has shown a 30% surge in the last 24 hours and about a 200% rise weekly. The whole bull run for the coin has resulted in a 1220% rise in six weeks.
The AI Hype
As AI technology continues to advance and more businesses and individuals seek to incorporate AI into their operations, the demand for platforms like SingularityNET that provide access to this kind of services is growing. The recent popularity of advanced language models like ChatGPT has further fueled this interest and investment, creating a strong demand for AI services and tools.
In addition to the broader trend of increased investment in AI, the success and growth of the SingularityNET platform itself have also likely contributed to the recent surge in the value of its native cryptocurrency.
The platform has been praised for its user-friendly interface and accessible marketplace, which has made it easier for individuals and businesses to access and purchase AI services. This increased adoption and usage have likely contributed to the growth of the platform and the value of AGIX.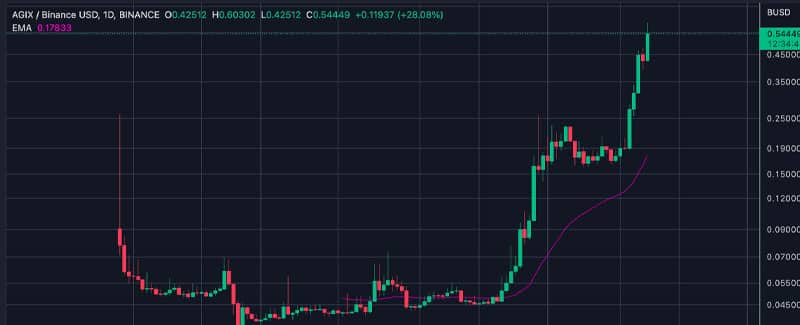 SingularityNET is a decentralized platform for AI services that aims to provide a marketplace for machine learning and artificial intelligence algorithms. The network is powered by its cryptocurrency, also named SingularityNET [AGIX], which is used as a means of exchange and to incentivize network participants to contribute computing resources to the network.
At the heart of the platform is its native utility token, AGIX, which acts as the fuel that powers the marketplace and enables users to access and purchase the AI services they need. 
The team behind SingularityNET is no strangers to AI, having created Sophia, the world's most expressive robot, and working to develop OpenCog, an AI framework that is pushing the boundaries of what is possible with this technology.
SingularityNET has a talented team of AI scientists, developers, researchers, and engineers. The company was founded by Dr. Ben Goertzel (CEO and Chief Scientist), Simone Giacomelli, and Dr. David Hanson. Dr. Goertzel is a well-known figure in the AI and robotics industries and has worked with leading tech companies like Hanson Robotics and OpenCog Foundation.
Simone Giacomelli is an entrepreneur and former crypto consultant, now focused on his R&D lab, Vulpem. Dr. Hanson has a background in robotics, previously working at Disney and founding multiple robotics startups.
With its strong track record, impressive ICO, and ambitious goals, SingularityNET is a platform that is definitely worth watching. Whether you're an AI enthusiast, a blockchain enthusiast, or just someone curious about the future of technology, SingularityNET is a platform that you won't want to miss.