Blockchain protocol Dharma has issued yet another governance proposal on the famous Uniswap DEX, this time calling for an airdrop.
If passed, the proposal would reward thousands of users who have interacted with Uniswap through 3rd-party platforms. However, investors fear that the airdrop would have an incredibly negative effect on prices.
Dharma created the governance proposal this week and it has already collected 28.4 million 'For' votes. To pass, users only need to delegate 30 million UNI tokens in total. Since the vote is bound to end on Halloween, the community has less than 24 hours to reach an additional 1.5 million votes.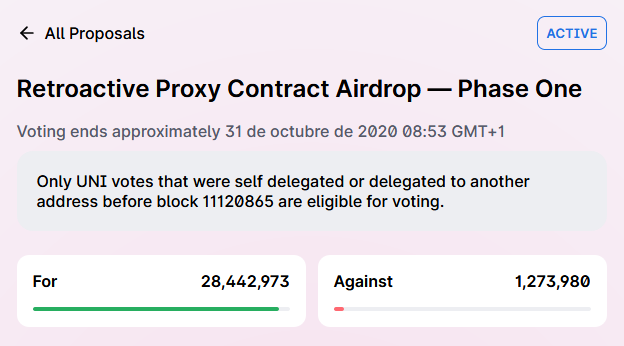 The proposal itself notes that it seeks to bring a retroactive distribution of UNI tokens, which was discussed on numerous occasions on the Uniswap forums. Essentially, the distribution would reward 400 UNI tokens to 12,619 unique addresses that have interacted with Uniswap via a proxy contract. Dharma notes that all of these 12,619 addresses were excluded from the original airdrop since they did not directly interact with Uniswap.
If passed, the distribution process would hand out 5 million UNI tokens in total. At today's prices, that equates to $11.5 million. While this would not completely destroy the price of UNI, investors are still at the mercy of this proposal as it would introduce significant selling pressure. As we have seen with the first airdrop in September, a majority of users decided to instantly sell their tokens instead of holding them.
Among the addresses, a majority of the eligible users utilized MyEtherWallet (MEW), Argent, and Dharma. There is also a significant portion of addresses that interacted with Uniswap via DefiSaver, Nuo, Eidoo.
Dharma already issued a failed governance proposal on Uniswap
As CryptoEconomy previously reported, the first governance proposal was also made by Dharma. At the time, the lending protocol sought to decrease the number of UNI votes needed to pass a proposal from 40 million to 30 million. Likewise, the number of tokens needed to submit a governance proposal was reduced as well.
Many in the DeFi community believed that this would ruin the decentralization of Uniswap. Since it is publicly shared information, we know that Dharma owns 15 million UNI tokens. Additionally, we also know that another blockchain protocol, Gauntlet, also owns 15 million tokens. Theoretically, these two projects could vote together and achieve the minimum quorum needed to submit and pass governance proposals.
---
If you found this article interesting, here you can find more DeFi News