The first governance proposal on the leading decentralized exchange Uniswap failed after falling short to reach a quorum. Extremely controversial for the community since it was first created, the proposal was only 1% of the total votes away from being approved. While the companies that own a major stake in Uniswap's governance are most likely angered, the rest of the community is relieved.
Created last week by DeFi lending protocol Dharma, the proposal aimed to lower the threshold required for introducing and completing proposals. Originally, the Uniswap developers created the governance model so that users have to reach a quorum of 40 million UNI votes.
But to even create a proposal, users had to delegate 10 million UNI. Naturally, this was troublesome for implementing changes as a good portion of the community had to agree on a single decision.
To combat this, Dharma proposed to reduce both metrics. Compared to the original settings, the community would only have to reach a 30 million UNI quorum and delegate 3 million UNI to submit a proposal.
At first glance, this appeared to be a great decision for the entire decentralized exchange. However, certain individuals conducted their due diligence and discovered that if passed, the proposal would be incredibly bearish for Uniswap.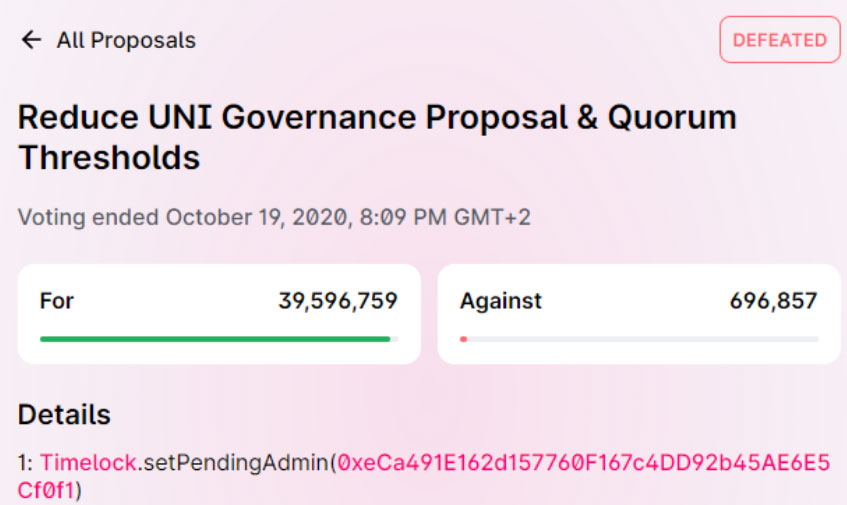 Based on public information, we know that Dharma owns 15 million UNI tokens. Likewise, a similar blockchain platform that owns a stake in the company also owns 15 million tokens.
It is easy to see how the protocol could be manipulated given that both of these entities own enough tokens to implement changes on their own. Due to that reason, a portion of the community believed that if the vote passed, it would mean centralization.
Uniswap remains decentralized as vote fails
On October 19, the vote finally failed as it did not manage to reach a quorum of 40 million votes. Based on the results, the community gave 39,596,759 'For' votes while 696,857 votes were against the proposal. The users who are pro-decentralization saw this as a victorious outcome. On the other hand, the developers and directors behind Dharma found this to be disappointing.
Publicly responding to the event, the Dharma CEO and co-founder Nadav Hollander called it 'a disappointing outcome that demonstrates the impetus for the proposal in the first place.' Another member of the community compared the vote to the 'DeFi equivalent of winning the popular vote but losing the electoral college.'
Whatever the opinions may now be, one thing is certain: the decentralized exchange survived and now stays decentralized. In the end, what is the purpose of dealing with a DEX in a DeFi market when the product is centralized similarly to modern financial platforms?
Governance tokens must be fairly distributed to prevent other major entities from gaining too much voting power. To do that, investors should see the UNI token as a serious asset with long-term value.
---
If you found this article interesting, here you can find more DeFi News