While bagging on the core values of creating a focused privacy environment for the public, Nebula Genomics has launched anonymous DNA sequencing services. The new services do not require submission of personal records. Payment is done via crypto to conceal the identity of persons paying for the services.
Nebula Genomics has created a platform, which only requires your saliva for the entire genetic sequencing process. Personal records such as credit card numbers, homes addresses, or even names are not necessary. The process is so simple and has been broken down into steps.
Anonymous Genetic Testing Procedures
The process begins with a request from anyone and Nebula takes advantage of the use of cryptocurrencies to allow people to pay for services anonymously.
However, if you are not conversant with the workings of crypto, Nebula has suggested the use of prepaid credit cards such as privacy.com, which come with anonymous features. Nebula also urges users to employ the use of virtual private networks to hide their locations when making payments. However, they can also use emails. In the event they use emails, email information should not contain any personal details.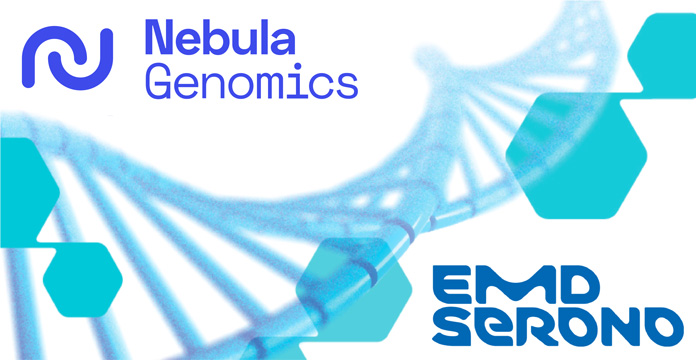 Through all the latter, Nebula ensures that their client's identity remains hidden by enabling them to pay via pseudo-anonymous mechanisms.
On the second step that is sample collection, Nebula has saliva collection kits whose primary goal is to get samples discretely from the clients. For the latter task, Nebula will send the Saliva kits via USPS linked to a PO Box.
However, any other private way of sending the kits is also accepted. Once samples are submitted back to Nebula, the whole process of DNA sequencing begins. With that, Nebula has hidden your identity and provided you, the client, with a discrete way to order your DNA test.
Besides that, through Nebula, data collected from individuals worldwide can be submitted to medical practitioners for research. For that, Nebula partnered with the oldest pharmaceutical company, EMD Serono. Through its partnership with EMD Serono, the latter will get access to its genomic data network and be able to carry its research. Similarly, with Nebula at the center stage of data sharing, it will ensure proper and right procedures are followed when acquiring data from its network.