Sometimes in technology the speed of understanding novelties for many is considerably less than the speed of development that cutting-edge solutions are experiencing. This is normal at times like today where adaptability requires precisely better solutions in response to the complex problems that these technologies bring. And that is the case of the blockchain technology, whose benefits are proving to be indisputably versatile despite presenting details that can still be improved. Precisely about that aspect of improvements is that we will talk in this post, and more specifically about the Multiversum blockchain network and its proposal whose ICO is about to be launched.
The Multiversum project is defined as a quantum leap in terms of Blockchain technology, because it is developed in an area not yet explored of said protocol: the data structure. This means that it gives its own response to the speed problems that normally arise in the development of the conventional block chain, allowing parallel transactions in independent self-dividing and autonomous chains.
The new Multiversum blockchain completely replaces the extremely expensive and polluting PoW (Work Test) and PoS (Stake Test) with a new concept: Integrity Test, a more environmental, light, fast and low cost footprint system that already begins to demonstrate its enormous effectiveness, even when it is still in the process of development, which speaks very well of its solution.
The versatility of this new blockchain of Multiversum allows you to handle parallel transactions, complex data structures and certify typical blockchain transactions.
The people at Multiversum understood that current conventional blockchain chains have great difficulty in interconnecting complex data and quickly supplying it to the network. In fact, this lack of speed tends to make the adoption of blockchain for more everyday uses unattractive. On the other hand, the current conventional blockchain chains do not allow back-end control over the integrity and security of the system, all of which does not facilitate the expansion of the market in institutional, financial, industrial and governmental environments. Certainly cryptocurrencies are currently used in the market, but the complexity of their implementation makes them barely usable for the majority. This is what has been identified as a problem, and what has motivated Multiversum to develop its solution.
Multiversum for all the above has developed its Blockchain Relational 4.0. It is a more secure blockchain, capable of creating synergies between cryptocurrencies and adapting to their specific needs, dividing and rejoining, allowing a faster and more orderly flow of data. They developed a highly secure multi-currency wallet, with biometric data access, based on fingerprint and retina scanning, protecting users from scams, intrusions and incorrect transactions. The currencies and tokens external to the chain can move freely, which allows fast interoperability from chain to chain. In addition all this at low costs, making it definitely desirable for its early adoption.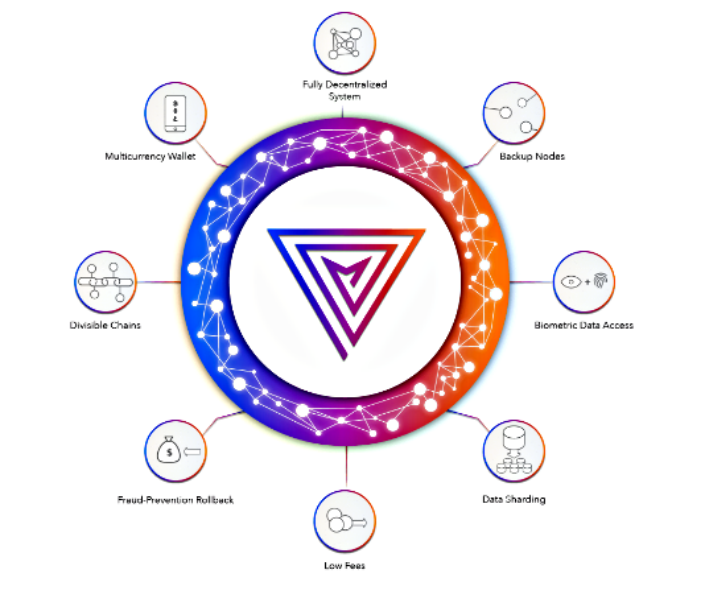 Multiversum was conceived to solve practical problems in diverse contexts such as financial, governmental and industrial, opening the possibility of incorporating blockchain in classic work environments such as offices, companies, and public institutions as an effective replacement of existing and  conventional databases which will became obsolete sooner than later.
A detail of the versatility of Multiversum is that it will have ERC20 / ERC23 integration, allowing coins and tokens from other solutions hosted in its chain and vice versa, with notary services as an external confirmation method, which complements the best of conventional blockchain, surpassing them. Multiversum goes beyond the existing simple blockchain data model by creating a relational cryptographic database that can handle a series of data grouped into graphs of complex structures that are related to each other.
The target of this blockchain is focused on financial institutions, public and governmental organizations, industries and individuals that want to protect their data with an immutable certification and a secure state at all times.
This fourth generation blockchain is already scheduled for its ICO, which will begin on May 1, 2018. The MTV token will be the utility token of the network, and will have a benchmark value for the ICO of 1 MTV = 1 USD.
For more technical details, we recommend reviewing the White Paper of the project, as well as being updated on news about the ICO, follow them at their Telegram channel and at their official website: https://www.multiversum.io/