In the last few days, Moonbeam's price has risen dramatically. The token (GLMR) began trading in April at a price of $3.1 and is presently trading at around $5.6. This enormous rise can be attributed to a number of factors. Moonbeam has become one of the highest performing cryptocurrencies in the last week as a result of them all.
Following the Market
The bitcoin market has been performing well in recent days. Bitcoin began an ascent, reaching its all-time high in 2022, and many altcoins followed suit. Despite the fact that BTC still has a long way to go to reach the previous ATH of $69K, market sentiment is positive.
Moonbeam (GLMR) has seen a price increase of roughly 80% since April 1st. It's now one of the best-performing altcoins, demonstrating the Polkadot ecosystem's enormous potential. Even in the past few days, that market has shown some red candles, and Moonbeam is performing well.
Moonbeam is a new smart contract platform by Polkadot that makes it simple to create natively interoperable blockchain applications. The recent price increase could be due to the project's collaborations and developments. For example, Polkassembly and Moonbeam have announced a partnership. Users can now immediately participate in governance and discussion for Moonriver and, soon, Moonbeam, thanks to this integration.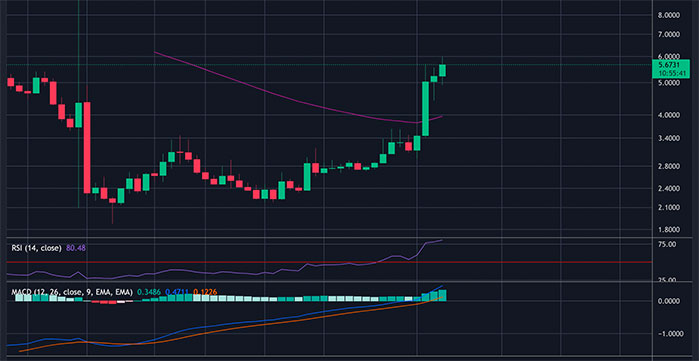 Karura is the subject of another update. On Moonriver, Karura's token (KAR) is now available, and Moonriver (MOVR) tokens can be utilized on Karura. The KAR token can be used across Moonriver's active DeFi ecosystem once it is deposited as xcKAR (an XC-20 representation of KAR).
Moonbeam's cheap transaction costs are one of its most appealing features. Moonbeam boasts some of the lowest transaction fees on the market when compared to other Ethereum compatible platforms.
The Moonbeam network is powered by the GLMR token, which is an ERC20 token. It's used to pay for things like transaction fees, staking, and other network activities. You have more impact on the network if you have more tokens.
Because it is still relatively new, the GLMR token has a lot of potentials. With a market cap of over $100 million. Because the Moonbeam team is continually striving to improve the network, the token has a bright future.
Considering the market situation, GLMR may continue to rise in the price charts more. But investors should be careful about saving their profits because others may do the same and cause the price to go down. after all, if Bitcoin gets successful in continuing the uptrend and breaking the crucial $50K resistance level, tokens like GLMR may have the chance to continue rising.