MicroStrategy CEO believes the Bitcoin strategy in his company has been very successful and intends to continue it in 2022. Michael Saylor described his multibillion-dollar Bitcoin buying strategy as a terrific success in terms of increasing shareholder value in an investor letter.
Profitable Strategy
Saylor's acquisition approach has evolved into something more innovative. As a result of an experiment with surplus wealth gathered during the coronavirus lockdown, share sales, convertible note offerings, and crypto-collateralized loans have resulted — all of which have been used to purchase additional Bitcoin.
According to Saylor, MicroStrategy is the largest balance-sheet bitcoin bull on Wall Street.
"In addition to our long-standing corporate strategy to grow our enterprise analytics software business, our parallel strategy to acquire and hold bitcoin has been a tremendous success. We will continue to vigorously pursue both strategies, and I strongly believe we have the right team in place to position us to deliver exceptional value to our customers and excellent financial results for our stockholders."
Saylor believes that the company's future Bitcoin strategy will be to continue to buy and keep the cryptocurrency. The innovative treasury strategy that they implemented in 2020 was only the beginning. The company's decision to use bitcoin as its principal treasury reserve asset set them apart from its traditional competitors and helped to boost its brand.
MicroStrategy joined a restricted group of high-profile, publicly-traded early adopters, which also included Tesla and Block, among others. At the time of writing, MicroStrategy is the largest publicly traded corporate owner of bitcoin as of April 14, 2022. Together with its companies, MicroStrategy owns 129,218 Bitcoins, which were purchased for a total of $3.97 billion, representing an average purchase price per bitcoin of around $30,700.
As of 2021, the firm was advancing its goal of purchasing bitcoin through loan and stock deals as well as surplus cash flow from operations, which allowed it to do so.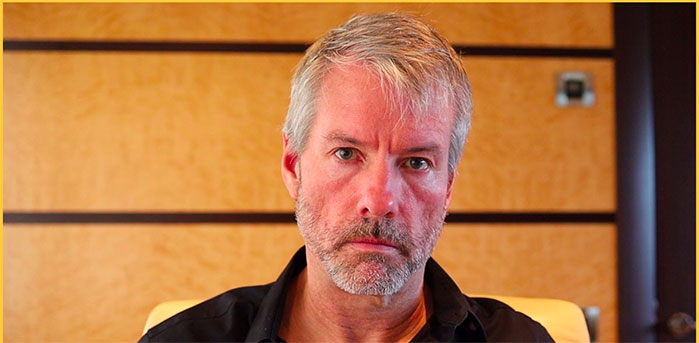 Because it increases brand awareness and gives potential to develop MicroStrategy's enterprise customer base, Saylor feels the company's bitcoin strategy is complementary to its analytics software and services business.
The bitcoin strategy can be thought of as an extension of MicroStrategy's business pedigree as a pioneer and early user of breakthrough technology, which began in the 1980s. Saylor claims that his company was a pioneer in the development of data mining software in the 1980s. In the 1990s, they were among the first to use the internet. MicroStrategy was the first company to advocate for mobile analytics, as well as cloud-based analytics, back in the 2000s. After all, he believes that innovation is ingrained in the company's DNA and that Bitcoin Strategy may assist in fostering it more effectively.