MicroStrategy (MSTR), one of the largest corporate holders of Bitcoin (BTC), purchased an additional 467 BTC for $14.4 million in July 2023, taking the BTC stockpile to a staggering 152,800 coins. In addition, the firm also revealed in an SEC filing that it is planning to raise $750 million via a stock sale and the proceeds may be used to buy more Bitcoin.
Amidst the lack of macroeconomic events in the digital assets market, Bitcoin (BTC) has been oscillating sideways over the past couple of weeks, trading below the psychological $30K mark. Despite the ongoing lackluster market condition, MicroStrategy continues to remain committed to its Bitcoin accumulation strategy.
A
Gargantuan

BTC Stockpile

In its August 1 financial results, the MicroStrategy firm, said it has purchased 12,333 BTC for $347 million in Q2 2023, at an average of $28,136 per Bitcoin, holding a total of 152,800 BTC as of July 31, acquired for a mind-numbing $4.53 billion. According to Andrew Kang, MicroStrategy's chief financial officer,

"The addition in the second quarter of 12,333 bitcoins being the largest increase in a single quarter since Q2 2021."
In July, @MicroStrategy acquired an additional 467 BTC for $14.4 million and now holds 152,800 BTC. Please join us at 5pm ET as we discuss our Q2 2023 financial results and answer questions about the outlook for #BusinessIntelligence and #Bitcoin. $MSTR https://t.co/SCHeBJ80TH

— Michael Saylor⚡️ (@saylor) August 1, 2023
As per its earnings call, MicroStrategy stock is up 200% year to date and is inching closer to its 52-week high of $478 with its Tuesday closing price of $434. MSTR has gained 254% since it adopted its Bitcoin strategy in August 2020, while Bitcoin itself has gained 145% since that date.
The company revealed total revenues of $120.4 million in Q2 2023, which represents a slight decrease in revenue year-over-year. The highlight for the company was subscription services revenue, which was up 42% year-over-year. The company also said software license revenue of $35.4 million was up 4% year-over-year.
MicroStrategy Plans on Buying More Bitcoins
Despite the high estimates, the company said that the carrying value which is the original cost of the asset, less any depreciation, amortization, or impairment costs of its Bitcoin (BTC) was just $2.3 billion. That number reflects cumulative impairment losses of $2.196 billion since MicroStrategy's first purchase and an average carrying amount per Bitcoin of $15,251.
In a separate filing to the United States Securities and Exchange Commission (SEC) yesterday, MicroStrategy announced it is planning to raise $750 million via a stock sale and may use the proceeds to buy more Bitcoin as well as increase the working capital.
🧐 King Kookbabbler's old company #MicroStrategy has filed notice with the SEC that it wants to dump up to $750 million in $MSTR on the market… in addition to the $335 million they just dumped on the market.

they use the money to buy bitcoins@crypto1nfern0 h/t @eliasbar9 https://t.co/zxSNIIu9Q7 pic.twitter.com/fvGgq1uY5V

— ⚯ M Cryptadamus ⚯ | @[email protected] (@Cryptadamist) August 1, 2023
According to the official document, it has entered into a sales agreement with three companies, Cowen and Company, Canaccord Genuity and Berenberg Capital, relating to the sale of its class A common stock. Kang said,
"As with prior programs, we may use the proceeds for general corporate purposes, which include the purchase of Bitcoin as well as the repurchase or repayment of our outstanding debt."
Bitcoin Rallies in the Wake of the Announcement
It seems the ambitious announcement has managed to trigger a positive sentiment in the market, propelling not only Bitcoin's (BTC) price but also raising the bar for the second-largest digital asset Ethereum (ETH).
According to CoinMarketCap, BTC is up 2.47% in the last 24 hours to hover at $29,610. Meanwhile, ETH jumped 1.76% in the same time frame to trade at $1,859.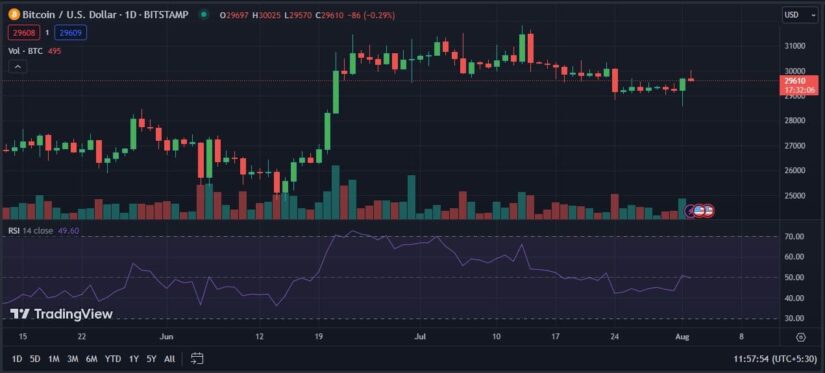 With the push for Bitcoin spot exchange-traded funds (ETF), the recent collapse of three major banks in the United States Silvergate, Silicon Valley, and Signature and the overall investor sentiment bodes well for the entire cryptocurrency landscape.
Leading individuals from the finance industry have continued to support Bitcoin (BTC), despite macroeconomic turbulence and the US SEC's blatant war on digital assets.
Bitcoin Support Gathers Steam
Recently, billionaire Mike Novogratz asserted that BlackRock CEO Larry Fink's conversion into a Bitcoin devotee is this year's headline event for the token and could send it to a new record high.
On July 31, Robert Kiyosaki, author of the best-selling personal finance book "Rich Dad, Poor Dad," emphasized his support for Bitcoin (BTC), after Wall Street Journal, ran an article in which the authors stated that the economy in the United States was strong.
RFK Jr. Announces Bold Plan to Back ~1% of T-Bills With Bitcoin, End Bitcoin Taxes pic.twitter.com/pBZcrjxXoj

— Joe Consorti ⚡ (@JoeConsorti) July 19, 2023
It has been observed that cryptocurrencies, especially Bitcoin (BTC) are also becoming an increasingly important political issue. Robert F. Kennedy Jr., a Democratic U.S. presidential contender, pledged to safeguard Bitcoin users' rights if he assumes office.
He positioned Bitcoin as a shield against totalitarianism and manipulations of the money supply, suggesting the cryptocurrency's future could render government institutions more transparent and democratic.