MicroStrategy is on a roll. The major bitcoin corporate backer revealed buying an additional amount of 328 Bitcoin for about $15 million in cash at an average price of nearly $45,710 per BTC on the 1st of March.
With this, MicroStrategy's official holdings of the crypto-asset have soared massively. This, in turn, catapulted the company's shares 7% higher in premarket trading.
Announcing the same, its founder and CEO, Michael Saylor also revealed that MicroStrategy now holds around 90,859 Bitcoin that was acquired for more than $2.1 billion at an average price close to $24,063 per BTC.
The latest purchase by the firm comes at a time when the Bitcoin and the cryptocurrency market suffered the biggest correction.
Bitcoin briefly declined close to $45k while the collective market cap of the cryptocurrencies took a plunge near $1.2 trillion. Since then the prices have recovered as a new month dawned. This has helped in putting a much-needed break to the extended losses that the market sustained during the last two weeks of Feb.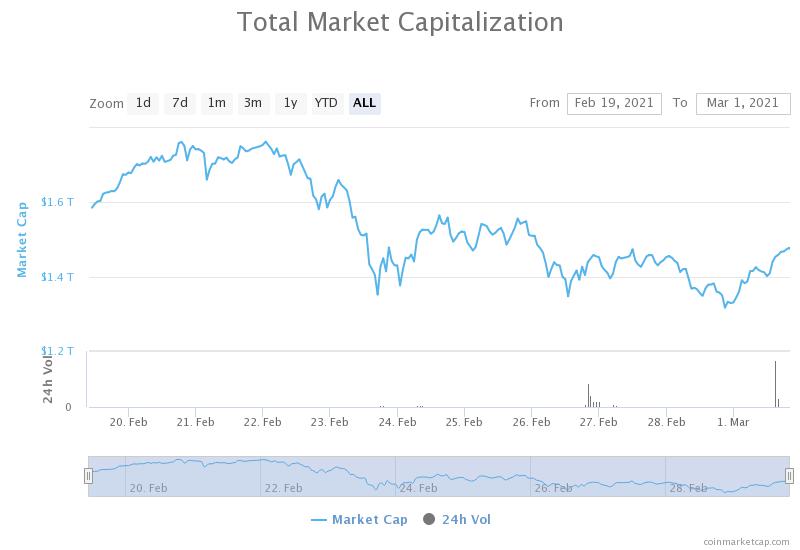 Hence, it can be safely said that MicroStrategy just bought a crucial dip. According to the latest stats, the company is already sitting on a roughly $2 billion profit.
Popular Bitcoin advocate Anthony Pompliano a.k.a 'Pomp' tweeted along the same line,
"Michael Saylor understands that bitcoin is a game of accumulation. He also just bought the dip :)"
MicroStrategy's Bitcoin Strategy
The business intelligence company's latest investment comes less than a week after its announcement of the purchase of another $1.026 billion in Bitcoin on the 23rd of Feb. With this development, MicroStrategy reportedly turned mountains of zero-interest debt into one of the single largest [dollar-denominated] BTC investments ever executed by a publicly-traded company.
The previous stint became the second only to Tesla's $1.5 billion investment on the list of publicly reported Bitcoin allocations by a US-based company.
It was not until last year, that MicroStrategy first dipped its toes into the space. This started with its first-ever Bitcoin investment in August 2020. Since then, the company has been steadily amassing the crypto-asset.
With back-to-back stacking, MicroStrategy remains to be the non-crypto company with the largest Bitcoin bags. And it is in no mood of slowing down anytime soon. Its CEO continues to pursue a coin accumulation strategy which is now strictly tabulated in the business intelligence company's mission.
Besides, its practice of issuing zero-coupon convertibles as a cash-raising mechanism is in congruence with that strategy.
Moreover, several other major firms such as BNY Mellon, asset manager BlackRock Inc and credit card giant Mastercard Inc, backed the crypto industry in recent months.
---
If you found this article interesting, here you can find more Bitcoin news