The Sandbox today announced the new Mega City 2, Hong Kong's vibrant cultural hub in the metaverse. It is the second phase of the decentralized gaming virtual world. Players will have the chance to purchase LANDs as part of the Mega City neighborhood at the new LAND Sale on April 28, 2022.
🌆 We're going back to MEGA CITY! 🌆

We are expanding upon the finest of Hong Kong culture with the second part of our LAND sale centred around the Mega City district inside #TheSandbox!

👉 Thursday 28th April @ 1pm UTC! https://t.co/xHu9xeBw4z pic.twitter.com/NkgJvUHIZu

— The Sandbox (@TheSandboxGame) April 25, 2022
New Experiences
People have always been the heart of the Mega City neighborhood. Sandbox says this second phase of Mega City expands upon the success of Mega City 1 and continues to bring the talent of the city to the cultural hub. As well as Ocean Park, Standard Chartered, Regal Hotels Group, Tatler Asia, EVI, Brinc, MADworld, Gameone, Chord Hero, and Time Gates of Hong Kong Pop Culture, UFO School has also joined. Through these partnerships, The Sandbox can build a culturally vibrant community that represents the city in tourism, hospitality, media, education, banking, investment, music, and entertainment.
According to Sebastian Borget, the Sandbox's Co-founder and COO:
"Our new partners bring some of the best of what makes Hong Kong a multi-cultural, vibrant city while sharing our creative vision of building an open metaverse. They are reinventing themselves and innovating through The Sandbox platform to offer unique virtual experiences."
There are many experiences to be added to Mega City 2. The full list includes:
Ocean Park

Standard Chartered

Regal Hotels Group

Tatler Asia

EVI Services Limited (EVI)

Brinc

MADworld

Gameone

Chord Hero

UFO School

Time Gates of Hong Kong Pop Culture
Mega City 2 LAND Sale is set to begin on April 28, 2022, and everyone will be able to purchase LANDs in this neighborhood. The Sandbox map shows the LAND that the partners have purchased. Exclusive premium NFTs are also included in the Premium LANDs. There is no limit to what landowners can do with their LAND. They can host events, host gaming experiences, or host social hubs.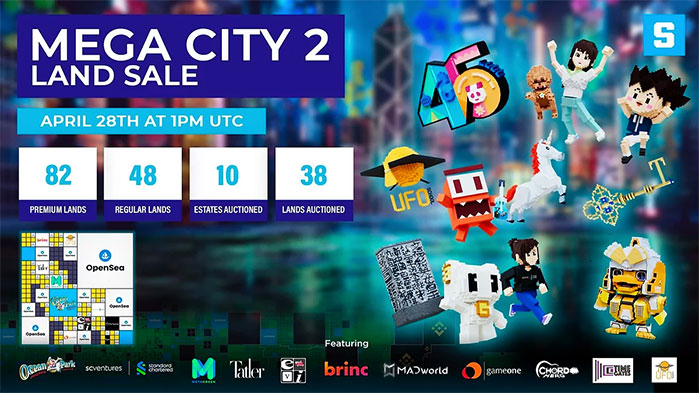 Having just launched its highly anticipated Alpha Season 2, The Sandbox is now working on a slew of new game experiences for the upcoming Alpha Season and beyond. Over 2.7 million people have signed up for the entertainment metaverse, indicating a high level of interest ahead of its launch.
A combination of immersive virtual worlds and amusement parks, The Sandbox embraces the metaverse concept as a continuous shared digital space where heroes and worlds collide. Over 200 partnerships have been forged to build an open platform and deliver a gaming experience anyone can access, own, create, and monetize. Using its play-and-earn model, players can fully own all items they collect, letting them trade, sell, and transfer them.