A man accused of stealing almost two million dollars in Ether last year, admitted guilt and faces a 10-year prison sentence.
Louis Meza, 35, who confessed being the mastermind behind the second-degree kidnapping and subsequent first-degree grand larceny this week in the Manhattan Supreme Court, has his sentencing scheduled by November 27, and is expecting to spend 10 years in prison, with other five years of post-release supervision.
Meza was not alone in his endeavor, however, for three more individuals helped him carrying out his plan. They were identified as Darrel "Bishop" Colon, Allen "Joke" Núñez, and Cesar "Fuego" Guzmán – all three of them were also indicted and their case is still ongoing.
Worth to mention, despite the evidence collected by the police, Meza refused to cooperate against Bishop, Joke and Fuego – but agreed to plead guilty with prosecutors, thus reducing his initial 25-year prison sentence to the aforementioned penalty. Aditionally, he will forfeit 84 bitcoins and 269,000 SALT lending tokens.
'Old school' Modus Operandi
Louis Meza and his three co-accused, were considering different ways to carry out their machination, but they ended up choosing the 'traditional way', that is, by using violence, death threats and a BB gun.
As Crypto-Economy reported, Meza held a meeting with the victim on November last year in Time Square, and convinced him to take a cab back to his home in Manhattan.
Bishop was hiding inside the vehicle – a minivan driven by Joke – and when the victim got in, he jumped out and pointed him with the gun. Under death threat, the man handed over his phone, wallet, house keys and other valuables.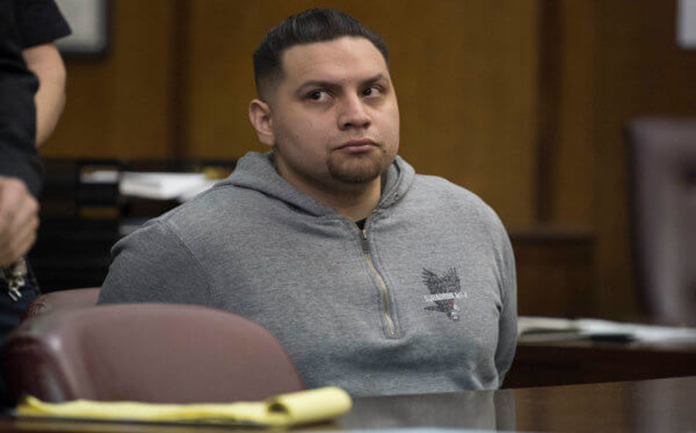 Per the video footage obtained from the surveillance cameras of the residential building, Meza gained access to the victim's apartment and stole a box containing the hardware crypto wallet with the ether holdings, then proceeded to transfer these funds to his own address.
Lastly, the kidnapped managed to escape from his captors and notified the police about what happened, who then began to chase them down.
Traditional criminals looting digital treasures
Meza's case is reportedly not the first one where violence is used to get away with cryptocurrencies.
On December 2017, in Turkey, local authorities busted five individuals accused for posing as police officers, detaining the vehicle of a businessman and pointing him with a gun, so he handed over the passwords of his banking accounts. As with the aforementioned case, the surveillance cameras in the place where the robbery was being committed allowed Turkey's cybercrime police to apprehend the criminals.
Another similar situation happened in Japan, when four youngsters were arrested for allegedly trying to rob a cryptocurrency exchange employee. The four suspects waited for the man, who was accommodated in a hotel to punch him in the face and demanded to hand over his cellphone, supposedly holding – at the moment – $ 900,000 in Bitcoins.
Fortunately, the heist was unsuccessful, for the victim was able to run away and notify local authorities about the crime.