A developer of the Lightning Network (LN) has released a crypto-wallet for mobile devices, thus enabling Bitcoin users to access the second layer payment protocol on-the-go.
French developer ACINQ announced via Twitter the launch of Eclair Wallet, the first mainnet mobile wallet based on Bitcoin's LN – a long awaited solution to this cryptocurrency's scalability issues. The app is available on Android devices running on OS version 5.0 (Lollipop) and up, and can be downloaded via Google Play Store.
"The Eclair Wallet is a next generation, Lightning ready Bitcoin Wallet. It can be used as a regular Bitcoin wallet, and can also connect to the Lightning Network for cheap and instant payments," says the description on the aforementioned digital store. "This software is based upon eclair, and follows the Lightning Network standard."
The app, written in Scala, can interface with both regular Bitcoin blockchain, and second layer Lightning Network, a neat feature that will save users the need for another wallet only to make transactions within the on-chain protocol. Its UI is user-friendly, and as expected, it provides LN benefits such as near-instant transactions, with fees as low as 1 satoshi per byte.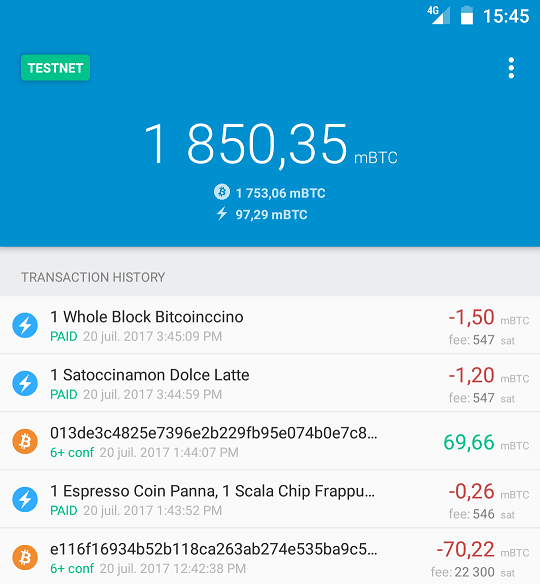 Although it has been performing quite well during day one, there are several things to consider before using it completely. First and foremost, it is currently unable to back up users' funds, which means they are tethered to their devices and consequently, can lose their money if access to said device is lost.
Due to that particular issue, the ability to accept payments is currently unavailable, too. This means that users can only send funds while using this app, but cannot receive them.
Additionally, since it's the first release for the mainnet, those who want to try it can expect several bugs and errors popping out now and then. A particular one, according to users, has to do with issues to open a channel for sending money, refusing to do so if there was less than 1 mBTC in the wallet. Apparently, this error has been already fixed, as per its GitHub.
Users have been praising ACINQ for its work on the wallet, citing the importance of having an app like this for the Lightning Network, a crucial step in the process of mass adoption. Although an iOS version would be helpful in this aspect, there are no plans for releasing it anytime soon due to coding requirements.
Nonetheless, the launch of a LN-based wallet is a milestone celebrated by the Bitcoin community, and it settles a precedent for future projects the like of this one.