Lido DAO (LDO), the governance token used within the Lido decentralized autonomous organization (DAO) for voting purposes, has rallied nearly 19% in the last 24 hours despite reporting a slight dip in its Total Value Locked (TVL) over the past week.
The Lido DAO token (LDO) emerged as the market leader eclipsing crypto heavyweights including Bitcoin (BTC) and Ethereum (ETH) in the recent market bull run. This comes after Lido Finance revealed in a 28 March tweet, a 2% decrease in its Total Value Locked (TVL) over the past week. Several crypto experts suggested the fall n TVL could be the falling activity on the network.
📈 Lido Analytics: Mar 20 – 27, 2023

TLDR:
– Lido TVL -1.04% down due mainly to ETH price volatility last week.
– 36.4% share of weekly ETH deposits.
– stETH/ETH rate: 0.9986.
– Expansion of stETH lending pools: @AaveAave V3 wstETH +10.6%, @MakerDAO wstETH-A +25.6%. pic.twitter.com/jzKhRR3iTj

— Lido (@LidoFinance) March 27, 2023
As per Token Terminal's data, the number of daily active users on the protocol fell by 29.1% over the past few weeks. This fall in users could be a result of Lido's declining APR. When the APR decreases, it reduces the incentive for users to provide liquidity or stake their assets through the protocol.
Lido Fires Up Despite Adversity
Despite the drop in TVL, LDO prices witnessed a significant rise in both its daily as well as its weekly chart. According to CoinMarketCap, Lido DAO (LDO) is up nearly 19% in the last 24 hours to hover at around $2.43. The DeFi token gained more than 3% over the past seven days outpacing most of the digital tokens. It seems Lido DAO price is in a good position going forward with immediate support set at $2.08 and resistance at $2.24.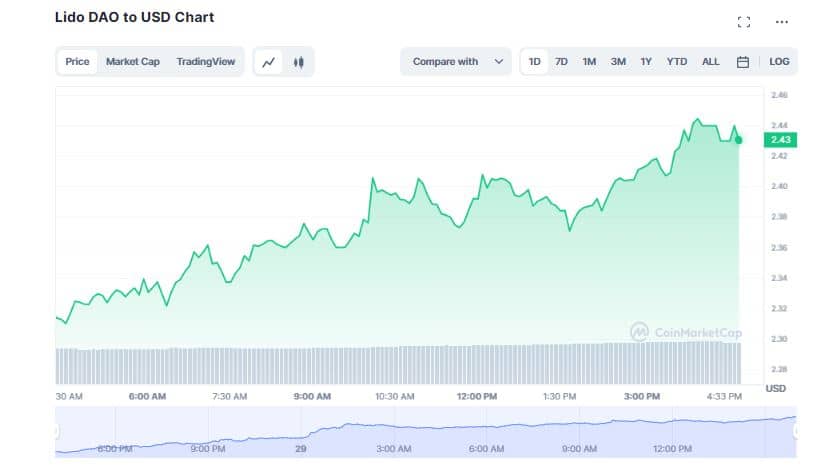 Furthemore, Lido has also been gaining enormous attention over the past few weeks over numerous developments the platform is deploying to improve its network. Since Ethereum's transition from Proof-of-Work (PoW) consensus to Proof-of-Stake consensus (PoS) in 2022, the demand for Lido has increased dramatically.
Lido to Introduce NFTs Into Unstaking Process
Recently, it unveiled plans during its Node Operator Community Call #5 to release a non-fungible token (NFT) representing a user's withdrawal request amount as part of the process of unstaking their Ethereum (ETH). These withdrawals will be enabled after the Ethereum blockchain undergoes its highly anticipated "Shanghai Upgrade", next month.
We're live 🎉https://t.co/ficdMC6ou8

— Lido (@LidoFinance) March 28, 2023
On March 29, Lido announced that as of August 1st, 2023, development and operation support for Lido on Polkadot and Kusama will be discontinued. Earlier this month, the DeFi protocol said it will stop the support of liquid staking on Polkadot and Kusama ecosystems. Following the announcement, LDO took a hit, plunging more than 7% in just 24 hours.