Lido DAO (LDO), the native token of Lido Finance, has soared nearly 60% in the past one week in wake of Ethereum's upcoming "Shanghai fork" which will enable users to withdraw their staked ETH tokens. Experts aniticipate this move will further encourage more people to stake through Lido Finance, boosting the demand for LDO.
The new year seems to have brought a slight sigh of relief in the cryptocurrency industry. After dropping to a two year low, Bitcoin (BTC) has finally reclaimed the $17K mark. Ethereum (ETH) witnessed a stong upswing breaching the psychological $13K level. Other major digital assets performed notably well with Solana (SOL) and Cardano (ADA) hitting nitro boosters zooming 60% and 31% respectively, in just one week.
Although, the aftershocks from last year will continue to reverberate in the short term as macroeconomic conditions is unlikely to change suddenly, experts believe things will change in the long term as increased regulatory clarity will help to build confidence in the market and encourage greater adoption.
Lido Rose Since Ethereum Merge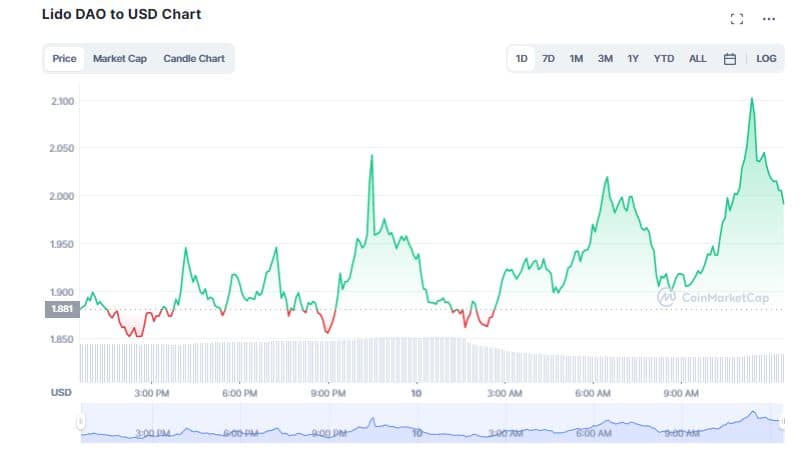 According to CoinMarketCap, Lido DAO (LDO) is up 3.37% in the last 24 hours to trade at $1.95. At the time of writing, the governance token of the Lido decentralized autonomous organization gained more than 58% over the past one week. The market capitalization of the token has noted a substantial uptick which now stands at $1.6 billion.
Since, Ethereum's transition from Proof-of-Work (PoW) consensus to Proof-of-Stake consensus (PoS) in 2022, the demand for Lido has increased dramatically. Being the largest liquid staking platform for Ethereum, Lido Finance, the company behind Lido DAO is responsible for nearly 30% of all staked ETH.
Furthemore, the recent rally of LDO can be credited to Ethereum blockchain's upcoming Shanghai hard fork, slated for March 2023. The software upgrade will allow users to withdraw their Ether staked in the Beacon Chain since December 2020, enabling traders to finally reclaim their assets.
Will LDO Gain Further?
Most recently liquid staking derivatives have had a nice uptrend.

This is thanks to the Shanghai upgrade expected in a few months which will enable withdrawals of staked ETH.

As withdrawals are enabled, many believe more users will stake their ETH.

LDO +26%
RPL +12%
SWISE +66% pic.twitter.com/tl2d3KSlRC

— 👨‍🍳.eth (@CroissantEth) January 2, 2023
The Shaghai upgrade is also expected to reduce gas fees for layer-2 solutions running on top of Ethereum that could potentially make it cheaper to transact on the Ethereum blockchain. On January 3, an analyst who goes by the name CroissantEth, tweeted,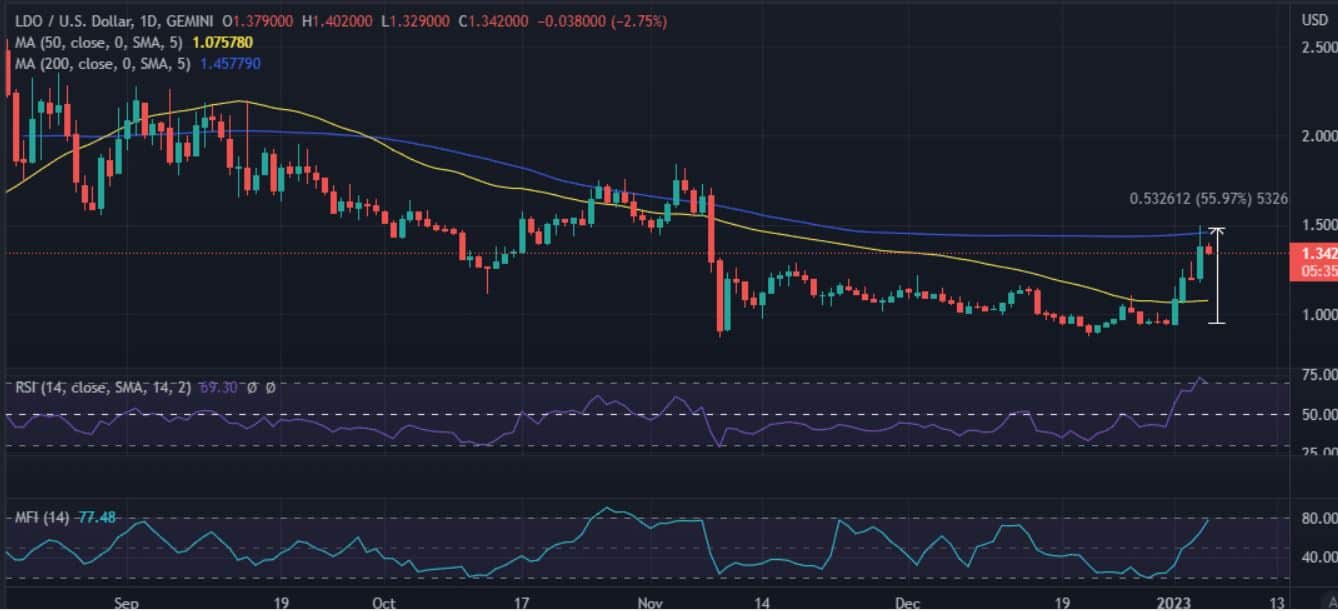 "Most recently, liquid staking derivatives [tokens] have had a nice uptrend. This is thanks to the Shanghai upgrade expected in a few months, which will enable withdrawals of staked ETH."
However, several analyst believe the LDO bull run may not sustain and is about to experience a bearish retracement. As per their analysis, the token seems to be in an overbought territory that has reached a point for psychological take-profit zone indicating an looming selling pressure.