FalconSwap, a layer 2 protocol to aggregate and scale Uniswap and other DeFi platforms, is integrating the industry-leading Chainlink Price Feeds live on testnet. With FalconSwap, users can swap assets directly on Layer 2 with near-zero gas fees, and no slippage.
Eric Falcon, the co-founder of FalconSwap, announced the news in a blog post published on Tuesday, November 10. FalconSwap is a layer 2 DeFi scaling solution that matches orders on-chain and submits a batched set of trades to the Uniswap AMM, significantly reducing gas costs.
According to FalconSwap,
"When there is sufficient liquidity available, users can swap assets directly on falconswap.exchange at the current market price (as reported by Chainlink decentralized price oracles) for near-zero gas costs, no slippage, and at much greater speeds."
To provide a fair market price of token pairs, FalsconSwap is integrating Chainlink's decentralized price oracle. FalconSwap said that the increased use of decentralized platforms had resulted in a massive rise in Ethereum gas prices, leaving many traders left out of the booming DeFi ecosystem. This layer 2 solution is aiming to solve this problem for trading assets using the current liquidity available across multiple AMM pools like Uniswap.
The protocol is a scaling solution built for Uniswap but can also be extended to aggregate other DeFi platforms like Moonswap, Kyber, and Balancer. The platform aggregates all the orders before sending them to the liquidity pools. Some orders are also matched on the platform itself in layer 2, where users can swap assets directly on FalconSwap exchange. The remaining orders are to Uniswap and other exchanges.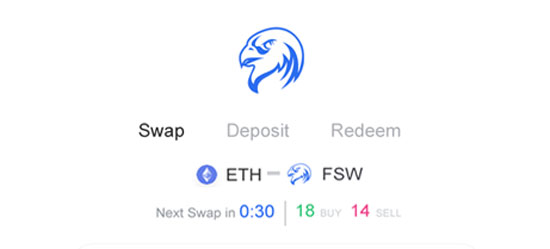 This process results in lower trading fees and slippage as aggregating orders distribute the transaction fees across multiple users. FalconSwap promises 80% less fees compared to other platforms. The protocol is currently running in the testnet with plans to soon launch on the mainnet.
A large number of DeFi-focused projects have opted for Chainlink's price oracles to provide real-time price feeds on crypto-assets, and so does FalconSwap. Eric Falcon, giving the reason to choose Chainlink, commented:
"By batching trades for Uniswap and other supported DEXs, we ensure that everyone, even small retail traders, has access to all DeFi token pairs without spending exorbitant gas fees. To push our capabilities to the next level, the Chainlink integration ensures that our users can swap tokens at fair market prices with no slippage directly on FalconSwap."
With the rise of DeFi, Chainlink price oracle services are in demand. As reported, Polkadot-based parachain decentralized exchange (DEX) Zenlink has also integrated Chainlink's price oracles to power DeFi products built on top of it.
---
If you found this article interesting, here you can find more Chainlink News