An article published by JPMorgan Chase entitled "The Dynamics and Demographics of U.S Household Crypto-Asset Use" examines the specifics of how Americans use crypto assets in their daily lives and what the future holds for them. The first finding of the study is that most crypto users started investing in crypto when the price of crypto assets spiked.
Demographic and Other Details
During the COVID-19 pandemic, households in the United States were more likely to invest in crypto-assets (also known as crypto) than ever before, in addition to a substantial increase in the overall personal savings rate as a result of the pandemic.
The number of people who hold cryptocurrency has increased from a tiny fraction five years ago. Almost 15 percent of individuals, according to the data at the end of 2022, had made transfers into crypto accounts at that time.
Considering the volatility of the market and the uncertainty of how crypto-assets might be used in the future, there is a potential impact on the health of household balance sheets as a result of this trend.
As part of this study, we used de-identified data in order to cover a sample of approximately 5 million active checking account customers, of which 600 thousand have transferred money to crypto accounts in the past year.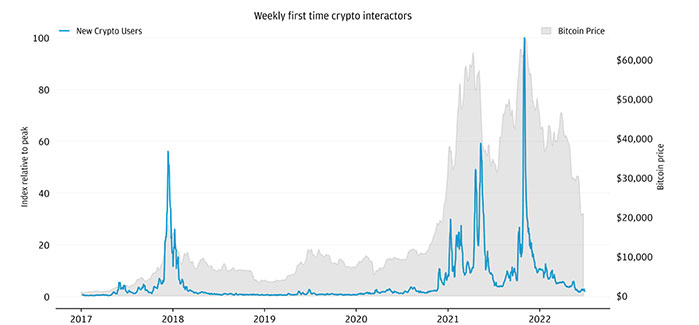 The report makes a number of important connections between the dynamics of these transfers and demographic data, which enables an analysis of heterogeneity according to income, gender, and racial groups.
According to the report, men, Asian individuals, and younger individuals with higher incomes are more likely to use crypto, and they are more likely to use it more often than those who are not.
In most cases, crypto holdings are relatively small despite the fact that median flows are less than one week's worth of take-home pay for most individuals. However, almost 15% of users have net transfers of over one month's earnings into crypto accounts.
As a result, most of the people who have transferred money to crypto-asset accounts had done so when the prices of crypto-assets were significantly higher than recent levels, and low-income consumers are likely to have made purchases at higher prices than those with higher incomes.
It has been suggested in the COVID-19 pandemic report that the percentage of individuals who have ever transferred funds into a crypto-related account has tripled since the beginning of the epidemic, from a cumulative level of 3 percent prior to 2020 to a level of 13 percent by June 2022. Despite the crypto winter, people still adopted cryptocurrency despite the fact that it was unprofitable.
Bitcoin's price has increased sharply during the last few months, which has coincided with the adoption of crypto accounts and the volume of transfers on crypto accounts.