Banking juggernaut, JP Morgan, has claimed that the FTX crisis could bulldoze Bitcoin (BTC) down to $13,000. In a recent report, the banking giant revealed the crypto market is reeling under a "cascade of margin calls" that could trigger major liquidations in the market.
The cryptocurrency market remained under severe pressure after Binance announced it was pulling out of the deal to purchase rival crypto exchange, FTX. In the wee hours of November 10, Bitcoin (BTC), plunged to a two year low falling to $15,800 level, its lowest since November 2020.
At the time of writing, BTC is down more than 8 per cent hovering around $16,608. The bellwether cripto has devalued nearly 18.11 per cent over the last seven days. Ethereum (ETH) along with other major digital tokens crumbled for another consecutive day.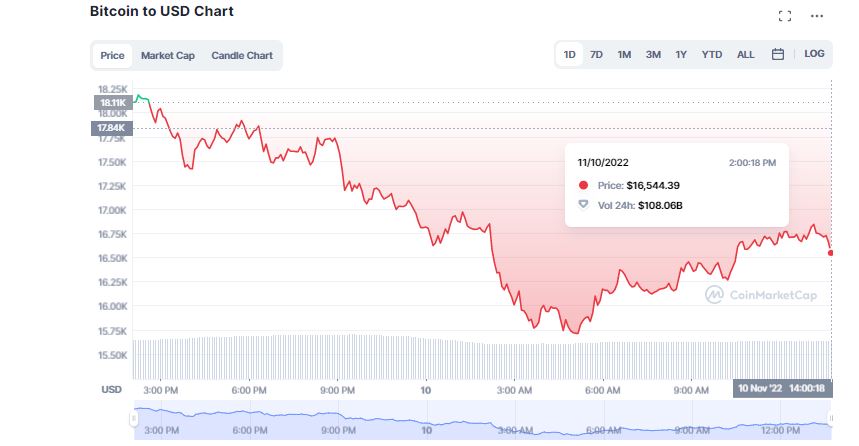 Will BTC Spirall Down to $13K?
According to a report, JP Morgan strategists have suggested that Bitcoin prices could collapse to $13,000 because of the Binance FTX drama that has triggered a widespread panic.
Strategists led by JP Morgan MD, Nikolaos Panigirtzoglou, have noted in the report that fears of a potential bankruptcy of FTX.com could lead to contagion taking down other crypto outfits. As a result, investors and traders could steer of the digital asset market given the current conditions.
The report further indicated that JP Morgan's Bitcoin (BTC) price prediction comes on the basis of Bitcoin's production cost to miners. The report stated,
"At the moment, this production cost stands at $15,000, but it is likely to revisit the $13,000 low seen over the summer months."
FTX's Trouble Deepens
The Binance FTX frenzy has put immense pressure on the entire crypto market. A day after agreeing to rescue and reaching a non-binding deal to buy FTX's non-US businesses, Binance has made a U-turn, walking out of the deal. On November 10, Crypto giant Binance tweeted,
"Our hope was to be able to support FTX's customers to provide liquidity, but the issues are beyond our control or ability to help."
As a result of corporate due diligence, as well as the latest news reports regarding mishandled customer funds and alleged US agency investigations, we have decided that we will not pursue the potential acquisition of https://t.co/FQ3MIG381f.

— Binance (@binance) November 9, 2022
Now several crypto experts anticipate that it will be difficult for FTX chief Sam Bankman-Fried to find news investors in the market. With dire uncertainity looming, analysts feel that the crypto market could continue to dip as the events negatively impacted investor sentiment.
David Adams, portfolio manager of the King River Digital Assets Fund, agreed with the JP Morgan report to Bitcoin (BTC) nosediving to $13K as the liquidity crisis has created solvency risk for FTX.
This is as clean of a continuation break as you are going to get, and this time we have a catalyst to really send it.

15k might provide brief support, but the next major area for price to settle seems to be around the 12k handle.

Cheap Bitcoin coming. pic.twitter.com/aDDMJIMRDh

— Clark (@CanteringClark) November 9, 2022
Hayden Hughes, chief executive of social-trading platform Alpha Impact also implied to $13K as a potential support. On the other hand, independent market analyst, CanteringClark said that the BTC price could eventually settle around the $12,000 level.
Many other analysts drew parallels with the collapse of the stablecoin TerraUSD, and its linked token Luna, earlier this year, which set off a series of bankruptcies of some leading crypto companies.