The Bank of Israel announced that it is collaborating with Hong Kong Monetary Authority to phase out a digital currency, including finding out how it handled cyber security risks, over the next six months.
According to a statement released by the bank, the joint project, which will begin in the third quarter, will utilize a central bank digital currency (CBDC) that has two tiers. The central bank will be responsible for issuing it, while financial intermediaries such as the banks will be required to distribute it. 
Getting Ready for the Future
After shelving its initial effort in 2018, when the central bank set up a team to advise against the issuance of a digital version of the shekel, Israel is beginning to consider exploring the possibility of a CBDC, albeit in fits and starts.
The analysts at Bank of America Corp note that at some point, central banks are going to launch their own digital coins in order to protect themselves from losing control over their monetary systems to decentralized cryptocurrencies or widely adopted digital currencies as a digital currency.  
It is intended that Israel and Hong Kong will test the retail CBDC to see if it can be handled by the intermediaries without having to expose themselves financially to their customers in order to see if this makes it easier for them to handle cyber attacks.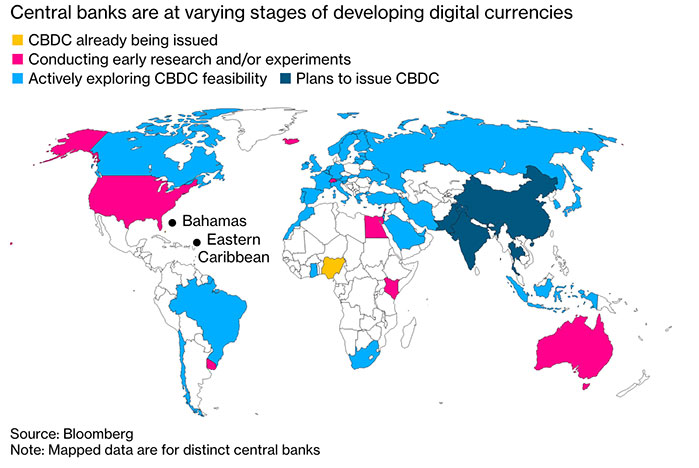 In a release, the Bank of Israel stated that the "exposure-free" CBDC would have "less financial risk for the customer, greater liquidity, lower costs, increased competition, and wider reach." As part of the trial program, the Innovation Unit of the Bank for International Settlements will also be involved. 
The International Monetary Fund estimates that around 100 countries have either adopted or are considering the use of digital currencies, although the field of research is still in its infancy. One of them is China, where 140 million people have already logged on to the Digital Yuan system, including participants in the recent Winter Olympics held in Beijing.
The next steps in issuing and distributing CBDCs are still vague in many countries. Many of them, like Israel, are currently testing and analyzing the profits and risks of issuing a CBDC, while there are many that fully stay against the idea.
Many experts believe countries inevitably will work on central bank digital currencies, and they should offer these kinds of assets to attract more people to the financial system. Some crypto enthusiasts, on the other hand, believe that CBDCs harm the natural ecosystem of the crypto world. It should remain to be seen what happens to the market and CBDC sector in the next months and years.