Decentraland's massive jump doesn't seem to end soon, and some metrics show another leg up for this platform and its token. The metaverse-concept blockchain has shown incredible price jumps in the past few days and is one of the most attractive projects these days. There are many records about digital assets that are sold in this blockchain game. The native token, MANA, is currently trading at $4.4. There are many reasons behind this massive price jump for a metaverse project.
One of the most important metrics in analyzing the growth and performance of a blockchain project is the number of active users it has and attracts every day. The more users come to the platform, the usage of the native token increases, and thus, the price may go up. Fede Molina from Decentraland believes the number of active users in the project is on the rise and will continue to grow massively by the end of November. He tweeted:
"Last weeks have been really impressive for @decentraland's Active User Growth. The platform is expected to hit ~300k MAUs by the end of November. It's very early, but it's great to see it gain momentum."
Decentraland provides a virtual world for players to experience an evolving environment with numerous opportunities. They can somehow live in this world, creating, exploring, and trading digital assets. It claims to be the first-ever virtual world owned by users. Ownership is the most fundamental concept that blockchain games rely on. They give full control of in-game assets to users and let them trade the assets.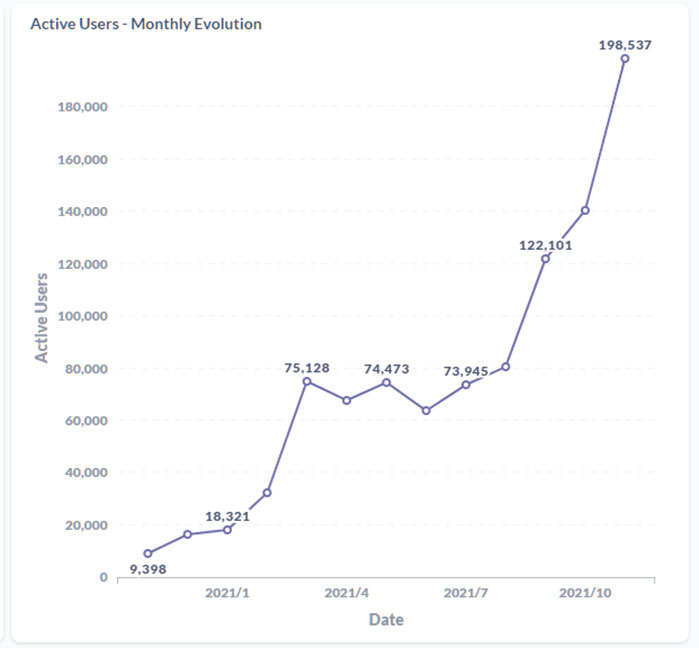 After Facebook rebranded to Meta and Zuckerburg talked about the details of his plan for a metaverse experience in social media, many of the current projects with these themes started to grow. Many people are looking for existing metaverse experiences, and many investors want to be the first in these projects. It resulted in massive price jumps for the native tokens of these games.
Decentraland (MANA) is one of those projects that experience a considerable price jump. The MANA token jumped from $0.6 in late September to an all-time high of $4.9 in the past few days. Many experts believe the price jump isn't finished yet for this project.
The growth in MAU that Fede talks about is one of the most influential metrics for price jumps here. He describes the meaning of active users in the platform as the people who move at least one parcel inside the virtual world of Decentraland. It means those active users are really active and affect the usage of the platform.