Latest Ripple (XRP) News
Behind Ripple is this noble drive of connecting the world and easing lives. It's all about completing what the first decentralization didn't achieve, and according to Chris Larsen, the internet of value is the ultimate goal.
Towards that goal, they will not be competing but developing or even supplementing what others have. Anchoring their development is striking partnerships and regulatory-compliance. And they have been pretty much successful in collaborating with firms bearing the same objectives. These are visionaries seeking to tear down barriers, reduce the cost of doing transactions and above all introduce efficiency.
Ripple at its core is not simply a platform where all that will be achieved but it will be where livelihoods will be positively impacted. Although prices are not responding and are in fact lagging compared to other top performers as Binance Coin (BNB) or Bitcoin for example, XRP is in an extended consolidation against the USD.
Even so, many analysts are upbeat and we need not to look far to draw bullish conclusions. From Q1 2019 reports, it was shown that $890 million worth of XRP were sold to institutional investors. All the same, critics maintain that the company is still the majority owner of the 55 billion XRP in their custody. They further argue that XRP is highly priced and that assuming that the coin is a settlement coin for the $5.1 trillion FX market which it has been trying so hard to do then even the coin trading at $0.0043 would be expensive.
Why #xrp is highly overpriced? Assuming its no. 1 use case is as settlement currency, and no one would want to hold on to XRP longer than neccessary to reduce price risk, even a price of 0,0043 USD/XRP would be high enough to settle the entire FX volume of $5.1 trillion USD/day. pic.twitter.com/qJLzE57BKn

— CryptoKea (@CryptoKea) April 10, 2019
XRP/USD Price Analysis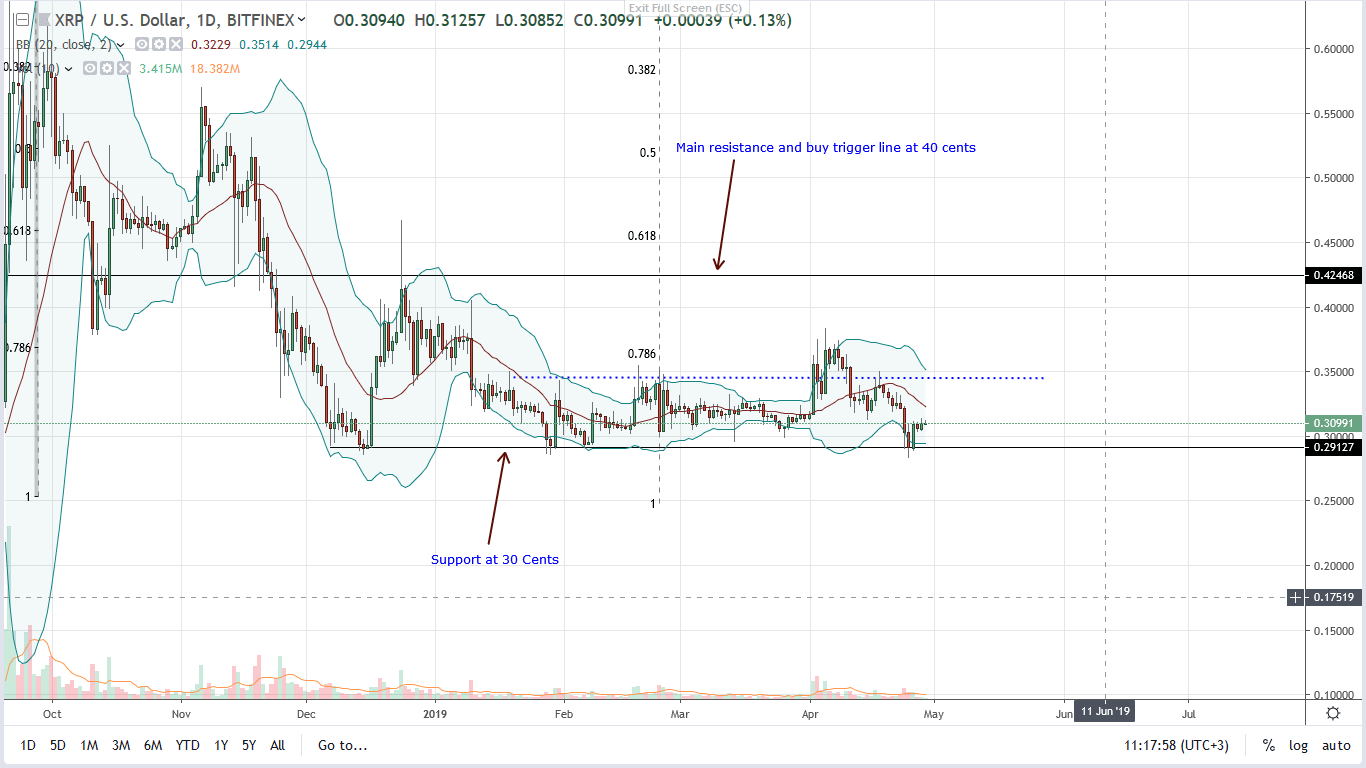 At the moment though, the chart has been described as a "nightmare". Ripple (XRP) is down 8.2 percent the last week changing hands at 29 cents as aggregated from trusted exchanges. Despite this immense pressure, we are net bullish on the coin unless of course there is a strong liquidation that will force prices below Jan-30 lows.
Ideally what should accompany such a sell-off are high transactional volumes exceeding 79 million of Apr-2 or on the lower side, 59 million of Apr-25. But before prices drop, invalidating our bullish stance, there is a double bar bullish reversal pattern reversing Apr-25 losses.
Since it is printing at historical levels—where prices found support throughout Q1 2019, it is likely that buyers will flow back. When they do, then bulls of Jan 30 will be true further affirming buy pressure of Sep 2018 bar from which prices have been oscillating within its high low.
Because of uncertainty, we recommend taking a neutral but bullish stance aware that gains above 34 cents will trigger short term longs in line with the Apr-2 trend. On the flip side, liquidation could see XRP plunge below 29 cents as our trade plan become null.
Chart courtesy of TradingView—BitFinex
Disclaimer: Views and opinions expressed are those of the author and aren't investment advice. Trading of any form involves risk and so do your due diligence before making a trading decision.