The community of the town of Hull in northeastern England will soon have a new local cryptocurrency. Kaini Industries, the company behind Hullcoin, has unveiled plans to develop a new local cryptocurrency  that will link to Hullcoin through the use of smart contract technology.
The Hullcoin token has no intrinsic value but can be used to redeem coupons and discounts at participating Hull  dealers and retailers.
Kaini Industries created Hullcoin as a way to increase cohesion in the community and to help low-income people make the most of their money.
Community members are able to obtain Hullcoin through various methods, the most prominent being volunteering in community programs. Once a user has completed a task in the program, they earn a series of Hullcoins that they can then redeem for goods or services in the city. There its value.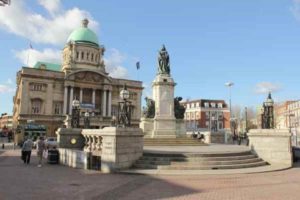 In addition, the platform developed by Kaini Industries can also be used in issuing and tracking aid. It has the ability to provide credits or tokens that denote the issuance of aid. Like HullCoin, credits have no intrinsic value in cash and act as an indicator, connected to the blockchain, that work has been done or a contract has been delivered, releasing the work-proof payment.
Although Hullcoin has had positive reviews, Kaini Industries now wants to create a cryptoconversion, with real cash value, which would exist alongside the Hullcoin bond. This new digital currency would work like other digital currencies.
With the appearance of the Local Pound Liverpool and the Local Pound East London in the UK, Hullcoin's new digital currency version would become the third local cryptocurrency 100% based on blockchain. It will be interesting to follow the development of Hullcoin to know the effects that the currencies will have in the local economies. As mobile payment adoption increases, it would not be a surprise to see the business improve under the involvement of merchants within these communities.
We invite you to follow the day by day about the cryptocurrencies, blockchain and bitcoin world at Crypto-economy.