A new report shows that the blockchain game platform Axie Infinity has surpassed Ethereum in terms of protocol revenue. The data shows that Axie Infinity has been successful in yielding $305M in the past 30 days, compared to $91.4M for the Ethereum protocol.
This blockchain game combines many of the most interesting features from both the blockchain and gaming industries. The result is a gaming platform that has been successful in going from $100,000 platform revenue in January 2021 to $196M in July 2021. It's now having more revenue than famous platforms like MakerDAO, BSC's PancakeSwap, and even Ethereum.
Gaming Industry Leading the Market
Blockchain technology has brought many opportunities with it. Starting with financial services and payment and then showing the potentials of smart contracts, this innovative description is now aiming at more mainstream users by offering professional gaming experiences.
There are numerous blockchain games in the market today. Each one combines a unique feature of the blockchain world with the gaming industry, NFT, for example. Axie Infinity is one of the most successful ones. It has many features for attracting both gamers and crypto enthusiasts.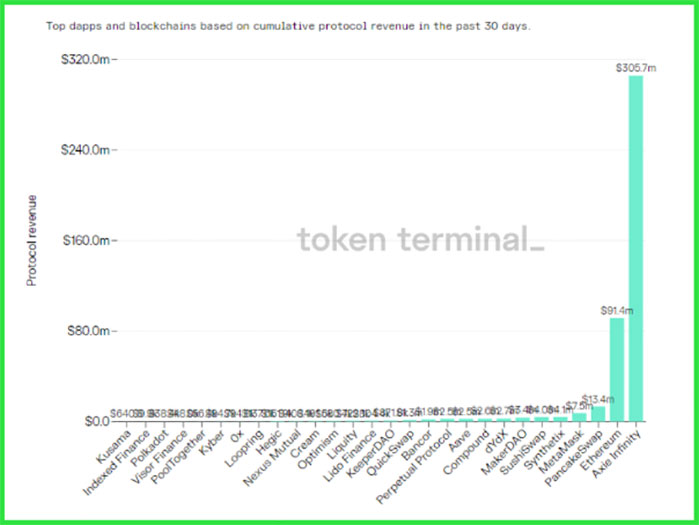 The Axie Infinity recorded an all-time high in terms of protocol revenue in the last 30 days. The latest report by The Defiant, according to Token Terminal, shows that the blockchain game yielded $305M and even surpassed Ethereum with $91.4M revenue. The Defiant believes that the economic system behind the Axie Infinity is the reason we see increased activity in the platform that results in more revenue for the team behind it, too.
"While the team behind it prioritizes making a high-quality game, really the feature that means the most to its users seems to be the fact that wealth generated by the game and its platform is driven back to them. Specifically, it's provided a way for many players to earn a living for themselves in the form of crypto."
One of the biggest reasons for the increased activity on Axie Infinity is the release of the Ronin sidechain. This sidechain has brought very lower costs for users and gamers. It's the reason we see more gamers suggest the Axie Infinity to their friends and colleagues.
Joining the game, buying in-game elements, and trading them now has fewer costs that have resulted in more players joining it. Besides, many of them are finding Axie Infinity a great solution to earn crypto for their life. Many of the community members inside the Axie Infinity ecosystem believe the play-to-earn system has resulted in good earnings for many of them.
---
If you found this article interesting, here you can find more Blockchain and cryptocurrency news