Digital artist "Coldie" partnered with hip-hop legend Snoop Dogg and released an NFT artwork named "Decentral Eyes Dogg." The NFT is currently on sale on the Superrare NFT marketplace and can become of the most expensive sold items in the market. The artwork is a combination of various pictures from Snoop Dogg and has the familiar concept of collage artworks that Coldie uses in most of his creations.
Famous faces coming to the NFT industry can be good news for the whole market. When people see celebrities collaborating with digital artists and believe NFT market, they will be encouraged to invest more, and it can gradually become a mature market.
Working with celebrities is a good opportunity for digital artists to promote their creations faster and expand their market more. Coldie moves a big step forward in partnership with Snoop Dogg and the recent NFT release. He is an award-winning mixed-media artist with numerous winnings and honors. But an NFT piece with the hip-hop legend can become his biggest art.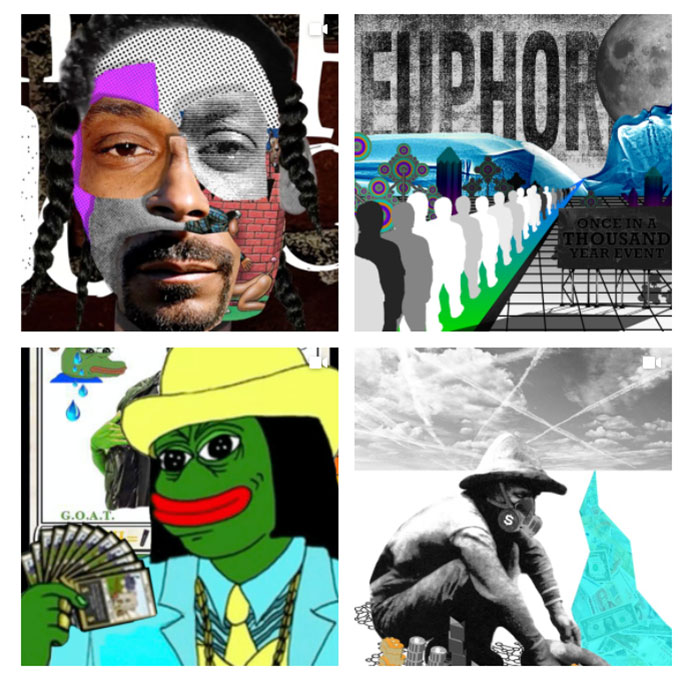 Coldie uses the 3D concept in his artworks. You can see a blockchain them in most of his works with a considerable focus on decentralization. The latest NFT, in collaboration with Snoop Dogg, follows this concept, too. You see a collage of various images of his face throughout life in a decentralized theme. The NFT is a gif animation with a voiceover from Snoop Dogg himself. According to the NFT description on Superrare:
"The purple area is a nod to his hip-hop royalty. The halftone and grunge effect on his left eye speaks to his being an OG in the game, and the Doggystyle references are a nod to his epic first release. Snoop recorded new audio exclusively for this artwork to add that swagger and put the signature Snoop touch on top."
The final NFT of Colie featuring Snoop Dogg is a 1/1 release of the Decentral Eyes Portrait series. The auction for this artwork will end in almost three days. The bidding started a few hours ago with an initial price of 4.2Ξ. But at the time of writing, the latest bid is 169 Ξ. We can expect the bids to rise in the coming days as more news spreads about the NFT.
Coldie has a good resume of selling NFTs at perfect prices. The average price for his sold NFTs is about 30Ξ. As mentioned above, the latest artwork featuring Snoop Dogg can be his biggest sold piece and move the average price of the collection very high. We should wait and see for the final bid and the price on the first NFT of the hip-hop legend.
---
If you found this article interesting, here you can find more NFT News