Latest Ripple [XRP] News
There is a difference between claiming to know the future and pretending to know what the future holds. Often times, perma-bulls pretend to know believing that their forecasts should be taken as gospel. However, for real pragmatists like David Schwartz, the CTO of Ripple Inc and a cog of the team with insider knowledge of perhaps each and every move of the team, they are optimistic of what the future holds but can't claim to know how it will pan out.
The community, is nonetheless upbeat about Ripple Inc, the adoption of their three key main solutions and most importantly the reception of their technologies.
As we have mentioned from time to time, banks and the general finance community are pretty rigid, unwilling to accommodate new-age solutions despite what they claim to advance.
For example, the upgrading to xCurrent version 4.0 allows a xCurrent using bank to upgrade and begin using xRapid, a solution that leverages XRP while simultaneously using the xCurrent rails for functionality. Not only does it represent speed and efficiency but the upgrade mean cost cutting, a dent that every business wish would be absence in their operations. Even so, it's upon regulators to give the green lights allow XRP use.
But before then, the induction of Yoshitaka Kitao into Ripple Inc board of directors is a big plus. Then again, despite low volatility, Ripple Inc now has two multi-billion-dollar partners in Ria Money Transfer and SABB bank of Saudi Arabia.
XRP/USD Price Analysis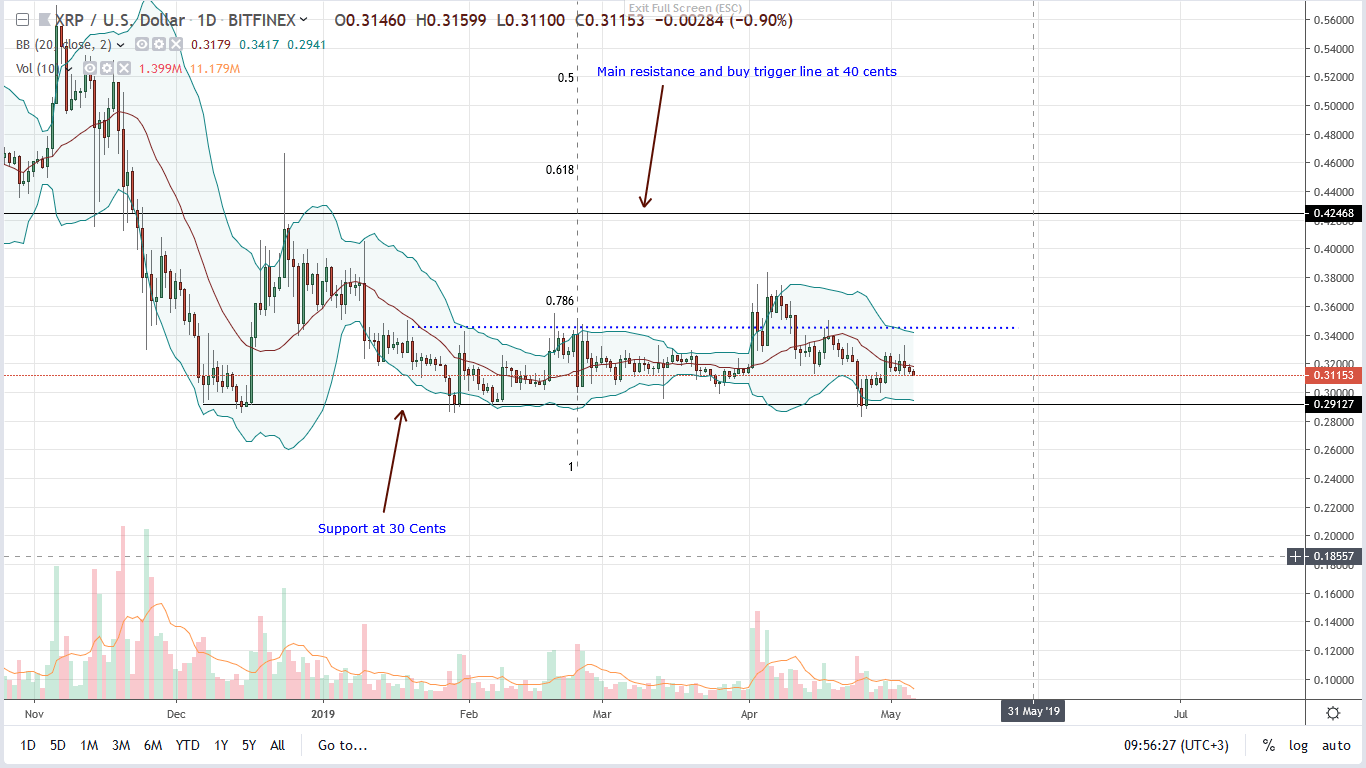 At the time of press, Ripple [XRP] is down 2.1 percent in the last day retesting Q1 2019 lows. If anything, this is negative for a coin that the community expects so much from. Even so, unless otherwise there is a steep liquidation forcing drastic drop of prices, we shall maintain an upbeat look, expecting buyers of Jan 30 to buoy prices as demand reverse losses of the Apr-24-25.
Thus far, from an effort versus result point of view, bulls are in control—at least in the short-term. However, there would be a shift once sellers press prices lower, wiping out gains of Apr-30 as prices gravitate towards lows of the double bar bull reversal pattern of Apr-25-26.
Note that, and we are reiterating this, any drop below Q1 2019 lows could invalidate our trade plan more so if the confirming breakout is at the back of high transaction volumes and wide ranging. Considering our candlestick arrangements, we shall adopt a neutral but bullish outlook until after prices rally past 34 cents allowing the first lot of buyers to enter their positions with ample targets at 40 cents.
Chart courtesy of TradingView—BitFinex
Disclaimer: Views and opinions expressed are those of the author and aren't investment advice. Trading of any form involves risk and so do your due diligence before making a trading decision.