The cryptocurrency market continues to fluctuate under the clouds of uncertainty. There is no clear indication of market trends and momentum. Coins like Bitcoin and Ethereum are struggling for clear breakouts. However, a handful of coins, like HNT and LINK, have developed a surprising bull trend. Even when the market volatility is at a concerning height, these tokens have outclassed competitor tokens.
The market has received setbacks in the form of global regulatory checks. This is why investors have remained reluctant in pouring their money into the sector. Several other concerns have liquidated billions of dollars in the crypto market every now and then. However, the shocking uptrend of HNT and LINK have provided a sigh of relief to several community members.
Market Performance of HNT and LINK
Helium (HNT) has managed to gain over 6.50% in the last 24 hours or so. This upward movement has taken the tally of HNT's weekly gains to 34%. As of now, the coin is trading at around $11.45. Moreover, the market cap of the coin has crossed $1.36 billion, placing it at #43 in the list of top cryptocurrencies by market cap.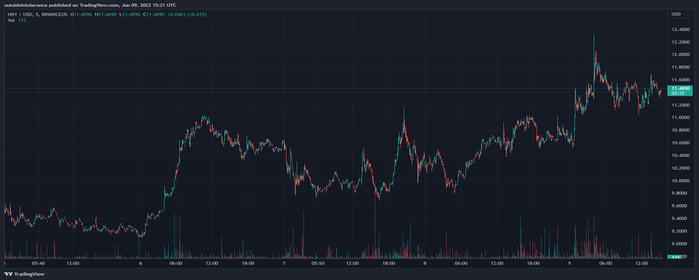 The coin can rise to the $12 mark after breaking the resistance of $11.60. It will then face resistance at $14. One of the most propelling reasons for the rise of HNT was the introduction of the Helium Improvement Proposal (HIP). This new upgrade will help the consumers and validators of the token. Therefore, traders have shown more interest in the token.
In addition to this, Chainlink (LINK) has also experienced a positive change of around 9% in its daily charts. The coin has gone up by a significant 33.90%. LINK is currently trading around $9.30. With a market cap of over $4.34 billion and a trading volume of around $838 million, LINK is placed at #20 in the top cryptocurrencies. The $10 mark now looks inevitable for the token. LINK is looking all set to make further gains as bulls remain in control of the coin. Systematic upgrades and developments have helped in the growth of LINK.
Nonetheless, other top market performers include the likes of Cardano and Tezos. Both of these coins have performed exceptionally well in the market in the past few days. However, investors are still waiting for some market stability to invest their assets. Under these circumstances, the performance of HNT, LINK, and some other tokens has helped the investors to recover some of their losses.