Metallica, an American heavy metal band, has just issued a warning to fans against crypto giveaway scams circulating on the social media since they announced their new album 72 Seasons.
Cryptocurrency scams have increased manifolds following the craze for digital assets that was at a fever pitch in November 2021. Cyber criminals have plagued the crypto industry for a long time now with hackers stealing nearly $1.9 billion worth of digital assets since the beginning of 2022. Despit market slowdown, crypto scams have been on a steady rise looting thousands of dollars of customer funds. Recently, the CertiK team claimed that video scams about front-running are rampant on YouTube, with a mind numbing 500% increase in 2022. 
Justice For All
— Metallica (@Metallica) December 6, 2022
On December 6, Metallica took to Twitter to warn fans regarding a "Metallica themed crypto scam", which claimed to offer cryptocurrency giveaways. It seems that hackers have started targeting Metallica fans through "social media impersonation". These are the fradulent posts on a social media platform put up by attackers which include fake celebrity accounts promoting the giveaway to lure people in.
In such scams, when an individual clicks on the giveaway, they are directed to a fraudulent site asking for verification to receive the cryptocurrency. The verification process includes making a payment to prove the account is legitimate. As soon as the victim clicks on the verification option, they can have their personal information compromised and cryptocurrency stolen.
Metallica issued the warning after a 51-year-old Manhattan man was scammed by a fake Metallica YouTube channel into transferring approximately $25,500 of Bitcoins (BTC). However, the legendary band was quick enough to notify regarding the crypto scam asking fans to steer away from the fake giveaways. Metallica tweeted,
"Many of you have let us know about YouTube channels and live streams, as well as websites, claiming to offer Metallica Crypto giveaways. Let's be as clear as possible. These are scams. They're being streamed on fake YouTube channels posing to be ours and all pointing to websites that we do not run."
The Dark Side of Scams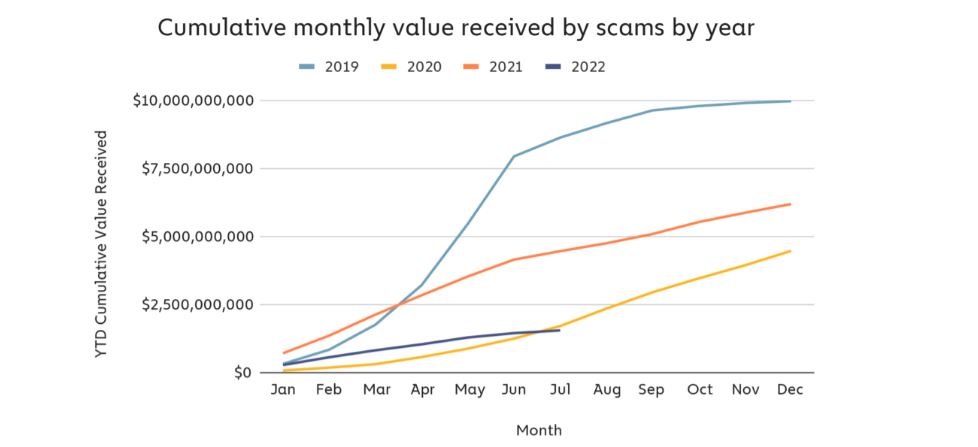 Previously, the United States Federal Trade Commission (FTC) blamed social media platforms such as Twitter, Instagram, Facebook, WhatsApp, and Telegram for a loss of nearly $1 billion.
As per FTC, around $2 million was stolen from customers over a seven-month period in 2020 and 2021 through crypto scams advertised by fake Elon Musk accounts. Ronghui Gu, chief executive of blockchain security company CertiK, had earlier expressed,
"Malicious accounts posing as real crypto companies, projects and entrepreneurs often tout fake giveaways of cryptocurrencies or NFTs."