It is well known that cryptocurrency mining involves a significant expense in both equipment and energy, which is a factor to be weighed in the cost equation. However, having mining services in the cloud, we have also seen how they are not always safe, in some cases occurring security attacks, and even the abrupt closure of those sites, causing multimillion-dollar losses to their users without them being able to obtain compensation. With these premises as the main problems for the safe and viable massification of cryptocurrency mining, the people of HashRental have developed their platform.
HashRental is a platform for renting power for mining – hash power – between individuals and decentralized with the secure facilitation of the platform, in an own tokenized ecosystem, in which all the participants of the cryptocurrency mining market manage to obtain the greatest amount of possible profits.
The market of HashRental will connect the sellers (miners) of the hash power with the buyers of power hash through intelligent contracts. The platform offers its users the necessary tools to make possible the exchange of hash power with the best possible profitability for the parties.
The hashrate is the unit of measure of the processing power of the cryptocurrency networks, and it is the reason for existing of the HashRental platform. The platform is a decentralized market in which access to a certain power of hash for a certain period of time is possible without incurring high costs, and also seeking profits.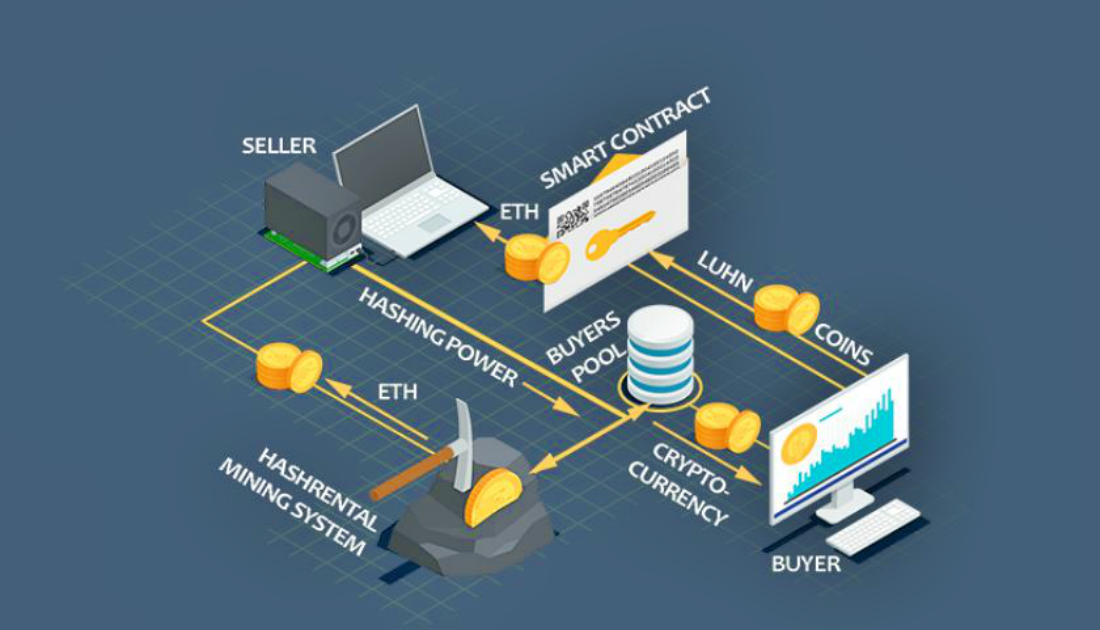 The operating dynamics of the platform
HashRental vendors must run the HashRental software or connect their mining hardware (GPU, ASICS, PC and smartphone platforms) to the HashRental servers. Once this is done, its hashing power is automatically sent to the options for use of that outstanding hashpower by buyers in the platform, either to a specific pool chosen by the buyer, or to other HashRental group.
The sellers receive their payment in ETH for the rent of the intelligent contracts after their respective confirmation if it is the case, or they receive payments in ETH of the HashRental pools, all of which occurs automatically.
It is important to note that the rental price is determined by the weighted average at the time and updated every minute.
The Token LUHN is the native token of the platform, standard ERC20, which represents the right to buy and sell Hashing Power with a discount on the HashRental market website. The LUHN token will be the payment instrument for rent of energy hash. This token will provide access to the purchase of hash power and discounts when the user purchases different Hashrate for multiple cryptocurrency algorithms on the platform.
The LUHN token allows its holders to make cryptocurrency mining investments at any time at an economical and profitable cost thanks to its rapid exchange and without having to buy expensive equipment.
The HashRate platform had a successful ICO and the official progressive launch of its services will take place from June 30, 2018. For more technical details of this platform we recommend reviewing its White Paper, and to obtain more information about its services, we recommend follow them on Twitter, or write directly to [email protected]