Cardano [ADA] has staged significant rallies and its underlying blockchain network has forged numerous partnerships to bolster its adoption. Over the past several months, the digital asset ecosystem has hit many milestones.
In yet another crucial development, asset manager Grayscale Investments has announced the addition of the proof-of-stake [PoS] blockchain platform Cardano [ADA] to its Digital Large Cap Fund. The platform revealed updating its Fund Component weightings for the Fund in connection with its quarterly review.
As per the Fund's construction standards, Grayscale has revealed modifying the Fund's portfolio by selling specific amounts of the existing Fund Components in proportion to their corresponding weightings with the help of cash proceeds to buy the cryptocurrency asset.
Following the development, Edward McGee, Vice President of Finance at Grayscale stated,
"We are excited to welcome Cardano to our Digital Large Cap Fund's portfolio as we work to ensure that our diversified Fund can safely hold assets that collectively comprise 70% of the entire digital asset market."
The exec also went on to add,
"Digital currencies represent a unique opportunity for investors to diversify their portfolios, and at Grayscale, we are proud to provide our investors with access to leading digital currencies through regulated, familiar product offerings"
The announcement comes two months after the asset manager revealed adjusting the Fund's portfolio to buy another prominent crypto-asset, Chainlink [LINK]. With the latest addition, Cardano has now become the Fund's third-largest holding.
The popularity of the Charles Hoskinson-led digital asset ecosystem can be attributed to the fact that it has focused on ways that blockchain can be used to solve real-world issues especially plaguing developing countries. In line with this goal, Cardano had recently announced a strategic partnership with the Ethiopian Ministry of Education.
Cardano [ADA] price movement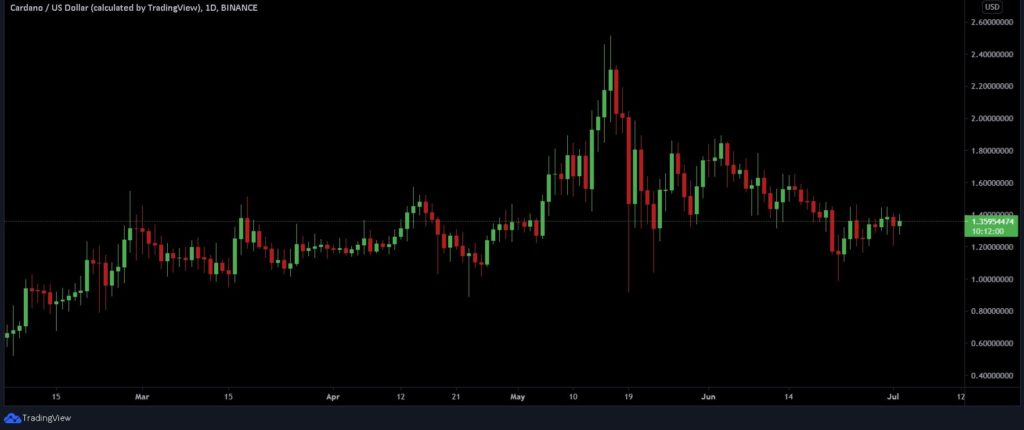 As tepidity ensued in the wider cryptocurrency market, the effect seeped into Cardano's price action as well. The digital asset has made pronounced gains earlier sometimes even amidst market-wide rout. However, after long eventful months, the bullish trend has stalled of late and major milestones have also failed to sway the price of the token.
At the time of writing, ADA was being traded at a price of $1.35 as it held a market cap of $41.36 billion. It noted a minor uptick of 0.60% and was the only one among the top 10 crypto-asset by market cap in the green territory. All the other assets were down and were flashing red. Additionally, Cardano was also up by almost 4% over the past week.
---
If you found this article interesting, here you can find more Cardano News