Cardano [ADA] emerged as one of the major stars this past year. This proof-of-stake [PoS] blockchain platform and its native token ADA has seen a lot of activity of late. However, the ongoing bullish streak might have stalled as the price movement did not reciprocate to a major development in the ecosystem.
Cardano community finally got the news of the much-aniticipated integration with digital assets platform Nexo. According to reports, Nexo is exploring the feasibility with ADA integration by launching most services save for withdrawals and deposits that demand more complicated alliances.
Following the development, Antoni Trenchev, co-founder and managing partner of Nexo stated,
"Blockchain companies like Nexo and Cardano have a lot of potential to give each other an important foothold in digital finance, and it's thrilling to see it happening."
Nexo's business is expected to unfold more utilities for the ADA token, while reducing sales pressure, increasing its value as well as creating an influx of users, including the crypto novice. Trenchev further added,
"At the same time, Cardano expands the entire market that can be addressed to us and expands the options of existing customers when investing funds through our platform."
The ADA integration is an important milestone, not just for Nexo but also for the Cardano ecosystem. This follows the growing demand from both Nexo's existing clients as well as the broader Cardano community. The collaboration also introduces another top tier crypto-asset to the firm's "Earn on Crypto & Fiat" suite and the "Instant Crypto Credit Lines," thereby summing up the total assets available for services on the platform to twenty.
Besides, ADA happens to be Nexo's second asset integration wherein the platform releases all its services for an asset with an exception of withdrawal and deposit features. This unique strategy enables Nexo to add new currencies under its hood of financial services and accomodate to customers' growing demands efficiently before full-fledgedly investing development resources into a complete blockchain integration.
Despite the relevance, the price of the crypto-asset has failed to post even minor uptick.
Cardano's Market Recovery Hits A Break
ADA market conditions are undeniable tepid similar to the rest of the cryptocurrency market. Surprisingly, the crypto-asset has not been volatile lately. In fact, f more than a week, ADA has been oscillating within the critical support of $1 support and resistance of $1.3 window.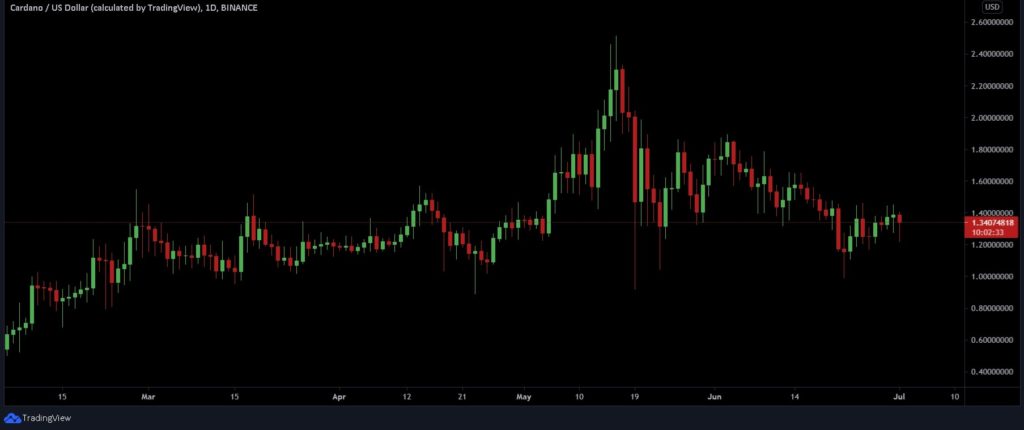 As far as altcoins are considered, this cohort is typically looked upon as a safe bet should Bitcoin turn to be expensive to trade. What further paved the way for the intense altcoin trading over the past few months, was the fact that these tokens had outperformed the king coin this bull season, while decoupling. However, this trend has reversed and altcoins have not been making fair gains either.
As Bitcoin's dominance rose again, the rest of the market started closely mimicking its price action. Cardano [ADA] was no exception, as it faced severe resistance due to selling pressure at key levels.
---
If you found this article interesting, here you can find more Cardano News