The GogolCoin recently launched a new cryptocurrency exchange, GOLEX. It will serve as a premium exchange in the MENA Region. GOLEX will offer crypto services, such as buying, selling, and trading digital assets in a decentralized manner.
GogolCoin is aiming to earn a credible name in the Web3 industry. Therefore, it is now extending its roots in the MENA region. GogolCoin will offer a safe and secure trading platform for digital assets. Moreover, the GOLEX exchange will pave the way for the processing of a large number of transactions. The exchange will also offer consumers easy access to tons of tokens and digital assets.
GOLEX prioritizes premium safety and security through its technologically advanced and innovative user interface. The whole project will be empowered and supported by the native token of the network, GogolCoin.
GOLEX Will Propel the Growth of the GogolCoin
Under current circumstances, the crypto industry has become a highly competitive space for cryptocurrency exchanges. There are several exchanges that aim to attract a wider range of consumer audiences. Therefore, a solid community and an innovative vision are the way forward for any exchange to gain consumer traction. This is why GOLEX is aiming to pursue these goals and build a community for itself.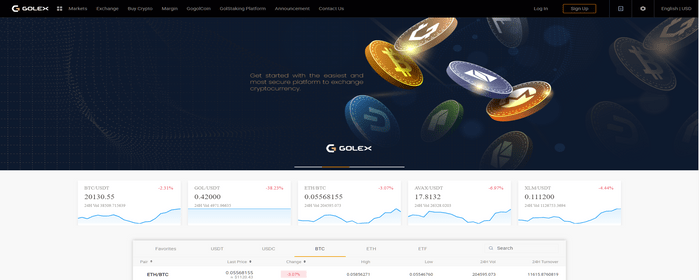 GogolCoin is currently trading around the price mark of $0.40. As of now, the coin has struggled because of the degradation of the entire crypto industry. However, GogolCoin has a strong community of holders. Several new investors and traders are attracted to the project because of its reliable roadmap.
Moreover, the coin offers a high APY in its staking pools. Therefore, it attracts many investors that are in search of a credible source of passive income. Along with this, the protocol has other platforms, like Metagol and MetaConnect. These platforms further strengthen the Web3 motives of GogolCoin.
In addition to this, GogolCoin will serve as an ecosystem token. It will support the exchange in a similar way that BNB supports Binance. It will be used as a trading fee, and will also allow access to exclusive Initial Coin Offerings (ICOs).
The skilled team of developers at the GogolCoin primarily focuses on the platform's Web3 initiatives. Therefore, they have come up with GOLEX. The exchange will offer services in the MENA region, whereas the GogolCoin will continue to gain global acceptance and mainstream recognition in the crypto realm. The exchange will act as a modern and innovative decentralized ecosystem.