The German travel and tourism multinational TUI Group is adopting blockchain technology in its reservation and payment systems. In an effort to avoid losing ground to its natural competitors and catch up with current trends, TUI has ignited the turbo and accelerated propellers ahead of the rest to become the first company to adopt blockchain in the tourism industry.
When most people think of blockchain, they think of bitcoin and digital currency. However blockchain technology is being used for a much wider variety of implementations. For example, a not-so-obvious application is the use of Walmart's block chain to track the movement of its products in a joint pilot program with IBM. Another not-so-obvious use case for blockchain would give automakers an unchanging record for each car in order to avoid manipulation of a vehicle's mileage (odometer fraud). TÜV Rheinland, for example, a German technical inspection company, is considering using the block chain for this purpose.
TUI Group will use the Ethereum block chain to update, distribute and directly access data on hotel capacity, eliminating intermediaries such as Expedia and Booking.com from the equation.
The block chain solves this asymmetric structure of access to data on a particular topic such as tourism reserves. Each computer on the network will be the same in the future. Anyone can have all the data. Central exchanges will no longer be necessary. Internet giants today will lose their data monopoly.
Tui Group considers that the travel industry has been the victim of large, centralized data collectors who derive benefits by organizing and distributing such data, such as hotel capacity or flights, maintaining accurate and current records of room availability, Other travel services. Travelers and tourists use these companies to book their vacations online because it is convenient, and hotels, airlines and other companies always strive to appear at the most popular travel sites as possible to get the most sales. To maintain this type of system, there is a very inefficient, complicated and costly synchronization system inherited among all these individual private data repositories. However blockchain technology will soon change all this.
Almost all large companies are currently working on this technology. We are talking about the democratization of all information structures, the nodes of the network are destroyed and the information of blockchain is inviolable and will be distributed to all users, visible in all computers.
The value of the blockchain in the travel industry is anticipated as a transparent and immutable database with worldwide presence and reach to publish and access travel data instantly.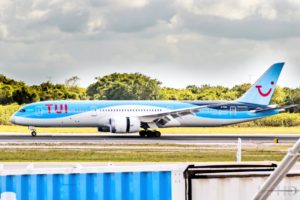 In addition with smart contracts, revenues can be maximized by connecting to other services in the blockchain such as forecasting markets and insurance services.
Blockchain technology offers a much more democratic system in the sense that it prevents a centralized data monopoly (such as Facebook or Agoda) from having all the keys to the world's information and imposing any kind of rules.
Although a cryptographically secure distributed database is not a solution out of this world, and still in development it is susceptible to errors, it has the advantage of reliable transactions that improve the transparency and fight the monopoly within the industries and these two things are desperately needed in today's world.
With its new investment in the Ethereum chain, the TUI Tourism Group remains confident in its future success and with a very good footing.
We invite you to follow the day by day about the cryptocurrencies, blockchain and bitcoin world at Crypto-economy.