Fidelity Investments, a financial services giant headquartered in Boston, has revealed that it is indeed working on a slew of blockchain and cryptocurrency-related products and services which it intends to release by the end of the year.
Speaking at the 2018 Boston Fintech Week conference, the company CEO Abigail Johnson said that the company is currently working on a "few things" of which some are partially complete while others are far from over. Some are "kind of on the shelf because it's not really the right time," she added. Johnson was light on the details about the developments and avoided giving any concrete examples of the services and products under development. Regarding the timeline, she mentioned that "[they] were hoping to have some things to announce by the end of the year."
Bitcoin and cryptocurrencies are gaining a lot of traction as more and more investors are interested in adopting blockchain assets as a new asset class. Financial service providers are therefore forced to pay attention to future trends to safeguard their businesses. Several large companies in this field are setting up research arms to find out how to apply blockchain to their existing product categories and others are looking to innovative use cases for the distributed ledger technology.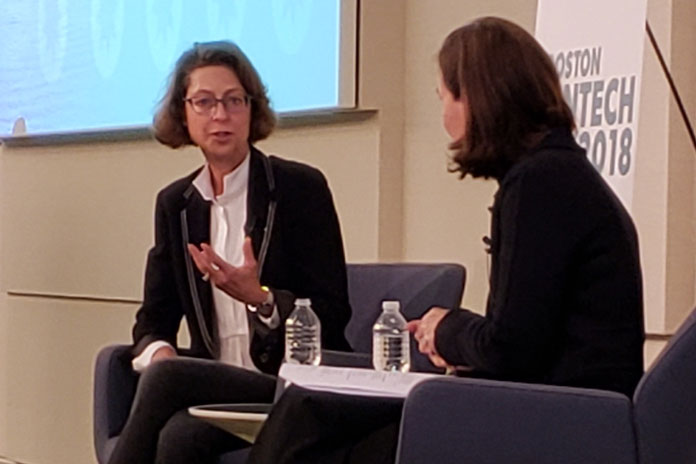 Morgan Stanley, for instance, has been reported to have set up a cryptocurrency trading desk and also is seeking to introduce cryptocurrency derivatives that will allow their investors and clients to gain exposure to cryptocurrency without having to directly invest in the volatile cryptocurrency industry.
Goldman Sachs is also working on developing a cryptocurrency trading desk while Citigroup is working on a Digital Asset Receipt (DAR). Finally, the Intercontinental Exchange (ICE) is also about to launch a new product specifically for institutional investors in the cryptocurrency industry called Bakkt. These developments are driving a lot of interest into the blockchain investments fields and Fidelity is not about to be left behind.
This announcement from Fidelity comes at a time when the cryptocurrency industry is going through a market correction and most investors are averse to investments in new products. The industry also lacks institutional grade custodial service providers that will allow large-scale institutions to invest in cryptocurrency. It is therefore prudent for Fidelity to keep some of their products on the shelf until such a time as the market conditions improve.
Fidelity is, however, not having the first attempt at the cryptocurrency industry. Previous events have shown that the company is extremely positive about the new technology and will be willing to invest heavily in the future. In 2015, Fidelity introduced cryptocurrency options to its independent public charity organization Fidelity Charitable.
This meant that the company allowed philanthropists to contribute to the charity through cryptocurrency. The decision was wildly successful as during this time several early adopters of cryptocurrency had gained massive amounts of wealth and may have been looking for channels to give out their wealth.
Previously, also the company has been involved in cryptocurrency mining which proved profitable as they mining operation was set up at a time when a single Bitcoin was selling for about $160 to $180.
"We never thought we'd make money, but we figured it would be a good idea because we'd get in at the ground level and we'd learn something," Johnson said.
Fidelity is approaching the blockchain technology with an open mind with Johnson admitting to some failures on previously held preconceptions. Most of what they expected would be relevant and succeed did not and what they never expected has been what succeeded in the long run. In her words,
"What we started with was building a long list of use cases for either Bitcoin, Ethereum, other cryptocurrencies, or potentially just raw blockchain technology, most of them have been scrapped by now or at least put on the shelf. The things that actually survived were not the things I think necessarily we expected. We were trying to listen to the marketplace and anticipate what would make sense."