Latest Ripple [XRP] News
There is something special about blockchain and crypto. It is distributed and global. Because of this distribution and global nature, governments cannot effectively apply laws and regulation to weed out elements angled at fleecing hard working investors.
Even so, we cannot say steps taken by some countries as China for example were a failure. In fact, what China and South Korea did set the precedence albeit with the loss of depth and exchanges left squabbling for legitimacy through transaction volumes.
If anything, transaction volumes define exchanges and the lighter they are the lower the rank and therefore projects willing to lift their assets. Because of this, research findings indicate that the space is struggling with wash trading and other manipulation tactics unheard of in traditional set-ups.
To quantify, comparing transaction volumes between those relayed by CoinMarketCap—popular with investors, and OpenMarketCap, another tracker that source their volumes from monitored exchanges, reveal that Ripple (XRP) transaction volumes is inflated. From CMC, XRP has a daily average volume of $804,465,984 at the time of press. However, at OMC, the coin's volume is $44,799,570. This disparity means most exchanges featured by CMC are wash trading to front a successful façade with low daily volumes.
XRP/USD Price Analysis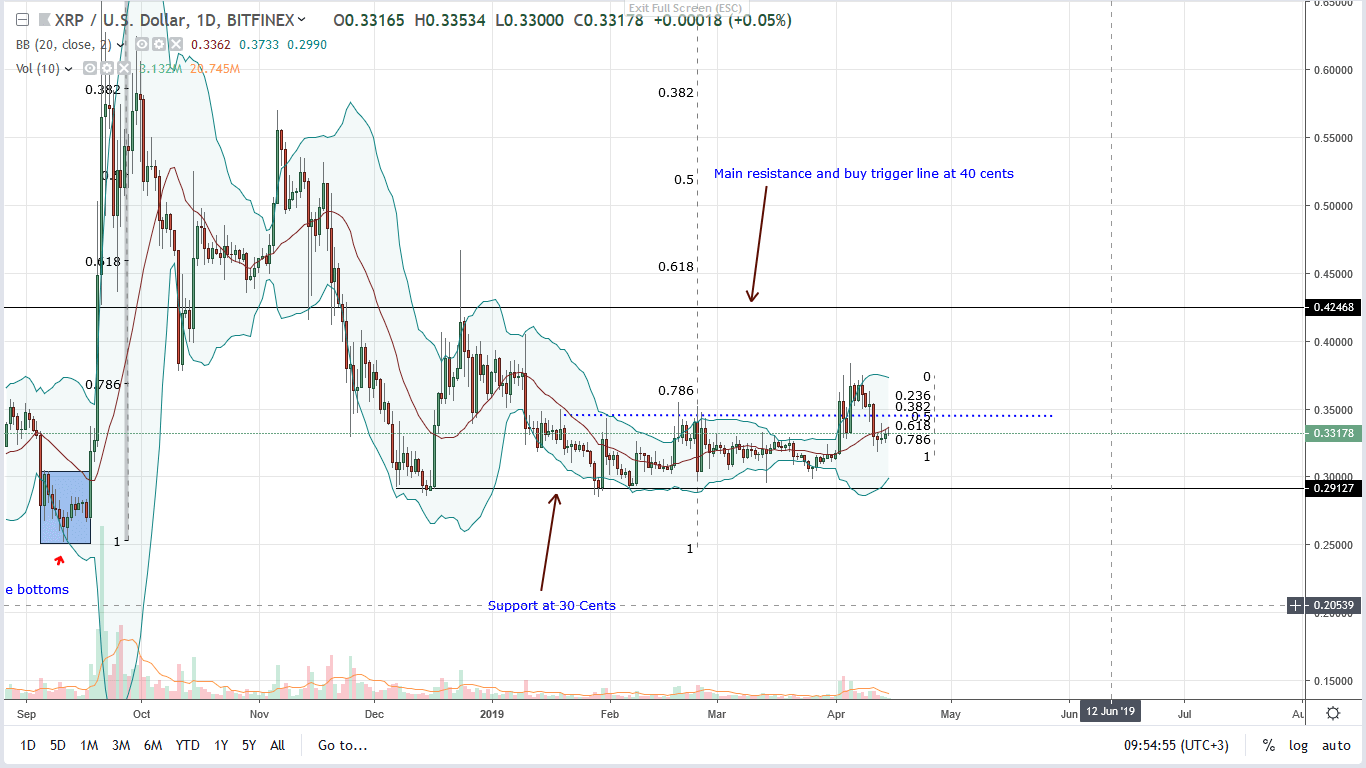 All the same, Ripple [XRP] is stable in the last day, adding 1.09 percent. Although we are net bullish on the coin expecting prices to edge higher in coming weeks, it is imperative that buyers maintain XRP prices above 30 cents and Apr-2 lows. This is so because as it is 30 cents is a strong support level and in the last four months or so, bulls have been flowing in from this level, driving prices higher like we saw back in Sep 2018.
Technically, because of Sep 2018 bull bar, the trend was set and have so far been confirmed by Jan 30 surges and Apr-2 gains that saw XRP temporarily rally past 34 cents but failing to sustain momentum above 40 cents. To reiterate our stand, we shall adopt a bullish stance advised by the failure of bears to reverse Apr-2 gains and therefore in an effort versus result point of view, XRP bulls would likely flow back.
Ideally, any bar driving prices above 38 cents ought to be at the back of high transaction volumes above 32 million of Apr-11 or even 79 million of Apr-5. Once this condition is fulfilled, our first target will remain at 40 cents and later 60 cents.
Chart courtesy of TradingView—BitFinex
Disclaimer: Views and opinions expressed are those of the author and aren't investment advice. Trading of any form involves risk and so do your due diligence before making a trading decision.