According to El Salvador's finance minister, El Salvador suffers very little fiscal risk despite the crash of BTC.
As a result of legalizing Bitcoin within its borders, the first nation to do so is sitting on a substantial unrealized loss amounting to billions of dollars. Yet, its Finance Minister, Alejandro Zelaya, assured the press that the nation's fiscal situation wouldn't be adversely affected by the recent market crash.
A bitcoin purchase has yet to be announced by the government of El Salvador. Despite the market crash, he spoke at a press conference, and the nation's Finance Minister insisted to a reporter that the BTC adoption did not come with increased financial risks.
Challenges for Bitcoin Adoption
Zelaya noted that the amount represents less than 0.5% of the country's national general budget, which is significant in light of estimates that El Salvador could have unrealized losses of $40 million on its BTC investment.
After the International Monetary Fund and credit agencies publicly criticized El Salvador's decision last September to make bitcoin legal tender, alongside dollars, this was the first state to increase the value of bitcoin.
Zelaya said at a press conference:
"When they tell me that the financial risk for El Salvador because of Bitcoin is really high, the only thing I can do is smile. The fiscal risk is extremely minimal."
The government of El Salvador has purchased 2,301 units of cryptocurrency since September last year, which has fallen to its lowest value since the year 2020 on Monday.
As Zelaya noted, Deutsche Welle previously estimated that the Bitcoin portfolio of the country had suffered a loss of some 40 million dollars.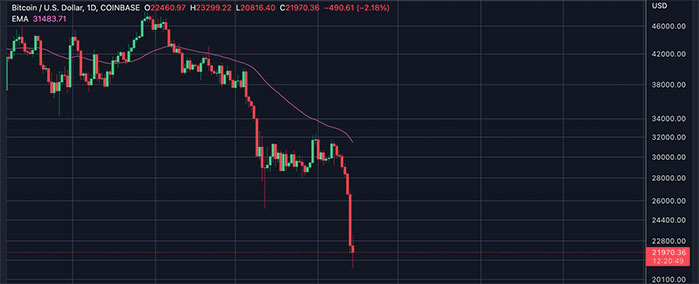 During the speech, he pointed out that 40 million dollars are still less than a 0.5% share of the national budget overall. The Bitcoin price has dropped more than 50% since the cryptocurrency came to be considered legal tender in El Salvador.
Bitcoin becoming a legal currency in countries can be both good and bad news. The good news is that it's a positive sign that adoption is expanding worldwide. More countries may want to try Bitcoin as their official currency, and it creates a buying sentiment in the market. But official currencies come with regulation, too.
When more countries start to use Bitcoin as the official currency, we can wait for more regulations and limitations, too. Besides, the previous efforts from countries like El Salvador haven't proved to be successful and may result in less trust in cryptocurrencies.