Ethereum "Merge", one of the most anticipated events in blockchain history, is finally expected to occur on September 15, 2022. With the transition to a proof-of-stake (PoS) consensus mechanism from proof of work (PoW), some miners are preparing to conduct a hard fork attempting to continue a PoW chain dubbed "ETHPoW or ETHW". Can The ETHW community pull off what they claim?
Post Merge, after Ethereum shifts to proof of stake, miners will lose their source of income. The miners will not be able to use their mining hardware anymore to validate Ethereum transactions. As a result some miners are hoping to keep the old chain and maintain the PoW consensus mechanism. The team behind ETHW remain highly optimistic in their potential for success.
ETHW Team Remain Confident
ETHW Core has just released its initial version. Main features are –
1. Disabled the difficulty bomb
2. EIP1559 changed: base fee to a multi-sig wallet co-managed by miners and the community.
3. Adjusted the starting mining difficulty of ETHW.
Details – https://t.co/KZp4E3C1zK

— EthereumPoW (ETHW) Official #ETHW #ETHPoW (@EthereumPoW) August 14, 2022
In a letter to the development team of Ethereum Classic, ETHW team claimed to have mitigated significant obstacles in their way, including the so-called "difficulty bomb". The difficulty bomb is a process to incentivize the network to move away from proof of work by increasing the difficulty level of puzzles required for mining, making continued mining unviable. The ETHPoW team wrote,
"We have dismantled the difficulty bomb and completed the preparation of the test network. In the face of such a hard fight, this hard bifurcation is inevitable."
The Ethereum Fork Fails To Gather Support
Could a Proof of Work #Ethereum fork persist post-merge? We explore the choices faced by stakeholders, and possible consequences for $ETH, $ETC, and the entire Ethereum ecosystem. https://t.co/wbKbWeSkHp

— Grayscale (@Grayscale) August 15, 2022
However, ETHW, has not yet garnered strong support in the speculative market. Analysts believe that an ETHW fork will face significant challenges due to the complexity of decentralized finance (DeFi) and proliferation of asset-backed tokens. According to a new study by Grayscale, despite forked assets being profitable as many of the top tokens by market cap started as forks of Bitcoin (BTC) and Ethereum (ETH), ETHPoW is not a viable solution. 
The study suggests that the complexity of DeFi and the number of asset-backed tokens locked in DeFi protocols poses a catastrophic risk to the price of ETHW due to on-chain positions attempting to be liquidated.
Grayscale explained that if the ETHW fork goes live, users of the DeFi protocols may attempt to liquidate positions leveraged against formerly-asset-backed tokens into ETHW tokens, while ETH holders simultaneously rush to sell the free ETHW tokens they've received for dollars or ETH on centralized exchanges. The cryptocurrency information platform added,
"As a result, we will likely see disproportionate selling pressure on the forked asset."
What Operational Issues Could ETHW Face?

Grayscale suggested that an ETHW fork could bring new operational issues for many Ethereum-based protocols, in addition to the non-redeemable asset-backed tokens on the ETHW chain losing value. Although ETHW is gaining popularity among miners, there is still no documentation for how miners will need to adjust their machines and software to mine the ETHW chain.
On the other hand, Ethereum Classic is fully documented and operationally ready to absorb the hashrate currently mining Ethereum. Grayscale wrote,
"Speculation on the ETHW token has sent the price in a steady decline of more than 50% in value since launch, while the price of ETC has increased in value by approximately 9%."
Supporting the Grayscale study, an ambassador for Chainlink tweeted his opinion that all off-chain dependencies for ETHW will break, which will create unfavourable condition for miners to continue their old activities. This could take the form of exchanges ceasing support for the ETHW coin, critical Web3 apps disregarding it, or DeFi price oracles becoming defunct. As per a Chainlink document,
"Users should be aware that forked versions of the Ethereum blockchain, including PoW forks, will not be supported by the Chainlink protocol."
Ethereum Community Takes a Jibe
Many among the Ethereum community have criticized the fork poking fun at ETHW on Twitter. Cofounder of EthHub, Anthony Sassano, tweeted,
"Thanos said he was inevitable as well, and we all know what happened to him. EthPoW chain is gonna kill its entire self."
Another user 'Hasu', showed contempt to the whole prospect of a fork reiterating that this is a foolish idea. Hasu wrote,
"Although most alt chains today are forks of ethereum, none has forked ethereum state. Not because they didn't think of it, but because it's a completely stupid idea."
9. although most alt chains today are forks of ethereum, none has forked ethereum state. not because they didnt think of it but because its a completely stupid idea.

— Hasu⚡️🤖 (@hasufl) August 6, 2022
USDT, USDC Rebut ETHW Community
Leading stablecoins,Tether (USDT) and USD Coin (USDC) had recently announced their support to Ethereum's changeover to Proof-of-Stake (PoS) consensus in its upcoming upgrade. USDT along with USDC, have stated that only the tokens on the PoS network will be redeemable post-fork. This means all of the variants on ETHW are likely to become worthless, in addition to other asset-backed tokens, like wrapped Bitcoin (wBTC) and staked ETH (stETH).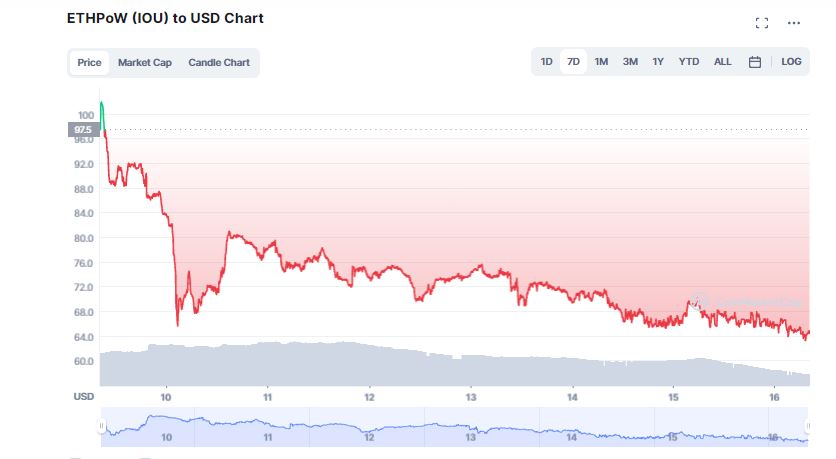 Grayscale asserted that the price of ETHW could be considered a proxy for how much support the potential fork may have, which has been trending down since trading of ETH IOU's began. ETHW kicked off on a strong note trading around $101 before retreating to $64, at print time. Grayscale specified,
"While there may be a possibility of short-term relief rallies, the price of ETHW indicates that the support may be driven by speculation rather than true perceived value of the asset. While ETHW has declined more than 50% since launch, ETC has gained ~9% during the same period.
In conclusion, the existence of ETHW is only up to one group of people – the miners. They could theoretically choose to continue mining to keep the old chain running, but they may face an uphill battle.